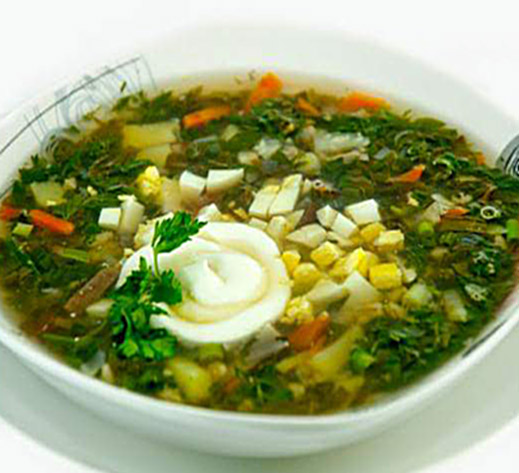 Though green soup can cook perfectly all year round, as sorrel can freeze or preserve, but in the spring it is especially important, since it is possible to add the first greens - nettle, green onions, young sorrel and spinach.
Most often it is a dish cooked on meat broth, but there are more low-calorie recipes, when the dish is cooked in water and served chilled, with lots of finely chopped fresh herbs. This option is particularly pleasant in the summer, In hot weather,, it is perfectly refreshing. Prepare sorrel broth and hash, using instead of kvass.
Sorrel soup (green borscht) in multivarka
To prepare the green borscht in multivarka, we need:
Beef (hen) – 400 g, sorrel (can in half with spinach) – 300 g, 3-4 PC. potato, 1-2 carrots, 1 parsley root (parsnip or celery), 1 bulb, Figure - 0,5 c., greenery (parsley, green onions), salt, pepper, bay leaves - to taste, 2-3 eggs, oil for frying, cream.
How to cook green soup (sorrel soup) in multivarka?
1. Prepare meat - wash, cut into cubes.
2. Wash and clean the vegetables and parsley, not too coarsely chopped. Washed well with rice.
3. Thoroughly wash the sorrel, cut into, All my greens and finely chop.
4. Multivarku put in "Baking / Roasting" mode, fried in oil, onion, carrot, you can lightly fry the meat. program switch off.
5. In a bowl add rice Multivarki, potatoes, parsley or celery, salt and spices and put the "Soup" mode.
6. boil eggs, cut its medium-sized cubes. Do not rub the eggs grated, if you prefer to lay them in the soup once, and not when filing.
7. for 5-10 minutes before the end of the program lay sorrel, of the greens and eggs.
8. Serve with sour cream and sprinkle with fresh herbs.
Cooking Tips:
Often boiled egg is added to a plate Serve, rather than during cooking borsch.
Some housewives prefer to cook green soup with other cereals, is used instead of rice buckwheat or semolina.
Interesting enough taste of green borscht is obtained by adding to it the young beet, and tomatoes.
If you are using a young nettle, its leaves must first be scalded with boiling water, and only then cut, they completely lose their stinging properties.
If the green soup seems not sour, add the little lemon juice or citric acid.
How to cook green soup in multivarka recipe videos:
)