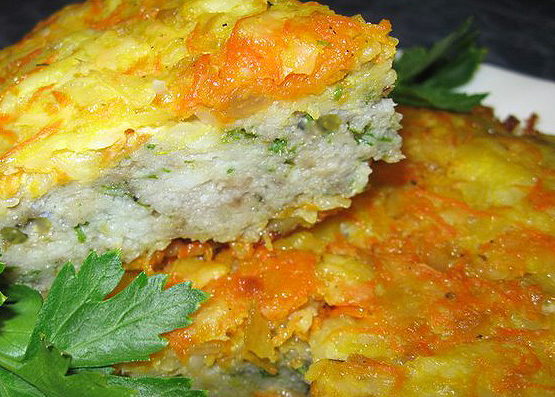 fish can, as known, cook a variety of ways, eg, roast, boil, salting, snuff out. Did you ever tried, make fish a versatile dish, as a casserole? Try to cook wonderful fish casserole using Multivarki. This dish is very easy to prepare, its membership includes more wholesome vegetables, green pea, cheese, eggs. In this dish, these products give the usual exquisite fish, delicate and original taste.
Casserole with fish and green pot in multivarka
To make a casserole with fish and green peas in a slow cooker, we will need:
0,8 kg of fish fillets, 2 PC. onions, 1 carrot, 0,5 cans canned green peas, 100 g cheese durum, dill, 4 eggs, 1 Article. milk, 100 g flour, pepper and salt to taste, vegetable oil.
How to cook fish in a casserole with multivarka?
1. Fish fillets defrost, remove small bones when available, Rinse, dry and sprinkle with salt and pepper. Then cut the middle-sized cubes or dices.
2. onions clean, wash and cut into half rings, Peel and grate the carrots. Vegetables lightly fry in vegetable oil, installing program "Bake".
3. On the layer of onion and carrot bed prepared fish, lightly salt, add spices, layer green peas, sprinkle with chopped herbs and pour a mixture of beaten eggs, milk and flour. The mixture also add salt and pepper to taste.
4. Set multivarku mode "Bakery products" and to prepare a dish of 30 to 50 minutes, depending on the power of the regime for your Multivarki. If after the main baking time is still liquid, it can evaporate when the cover is open in "heating" mode for 10-15 minutes.
5. When serving sprinkle with grated cheese, pour the tomato sauce or sour cream.
Cooking Tips:
Fish before baking you can sprinkle with lemon juice.
Instead of milk can take the sour cream or mayonnaise.