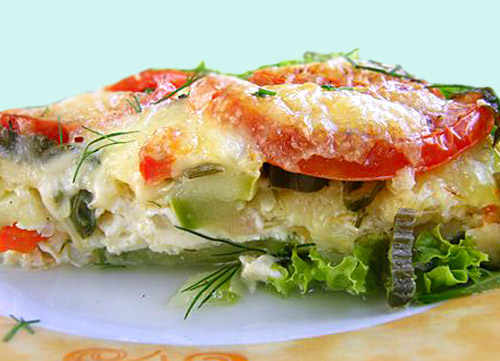 Courgettes - great and tasty source of potassium for our body, which contributes to the good work of the cardiovascular system. Young squash perfectly assimilated, suitable for dietary and baby food, they are low in calories, which is important for those, who wants to lose weight. Baked squash - a great alternative to other dishes, it is suitable for light, But at the same time, hearty summer supper.
Baked zucchini with cheese in multivarka
To Cook a casserole of zucchini and cheese in multivarka, we will need:
courgettes - 0,7 kg, tomatoes - 2 PC., bow - 1 PC., cheese varieties - 150 g, egg - 2 PC., milk - 0,5 c., cream - 2 Article. l., greenery (dill, parsley), garlic - 2-3 slices, salt - 2,5 ch.l., spices - to taste.
How to Cook a casserole of zucchini in multivarka?
1. Courgettes should be washed and cleaned from the skin (young can not be cleaned), then cut into slices netolstym, thickness of no more than 1 cm. If not, young zucchini, it is necessary to remove the seeds.
2. slices of salt, Spice up, sprinkle with finely chopped herbs and garlic, Stir and set aside to marinate for a while (for the convenience of marinating can use a plastic bag).
3. In a bowl Multivarki pour vegetable oil and gently fry the onion in the "Frying / Baking" (if desired, you can not fry). After roasting the onions put in a bowl.
4. Wash tomatoes and cut into slices netolstym, cheese rubbed on a medium grater.
5. prepare fill: Beat eggs, adding milk, sour cream, a little salt and spices to taste.
6. If given zucchini juice when marinating, it is necessary to merge. Zucchini slices evenly over the bottom.
7. Expand the top circles of tomato and fried onions. Sprinkle with grated cheese and pour the prepared filling.
8. install program "Bake" on 1 time, if not all of the liquid has evaporated after a time, you can leave for another casserole 10-15 minutes by heating with the lid open.
9. Casserole may be used as a main dish or a side dish, It will go perfectly with any meat dishes.
Cooking Tips:
Try adding in a casserole courgettes: stuffing layer, or sausage, diced, or sliced ​​chicken, We get a very tasty!
How to Cook a casserole of zucchini in multivarka recipe videos: