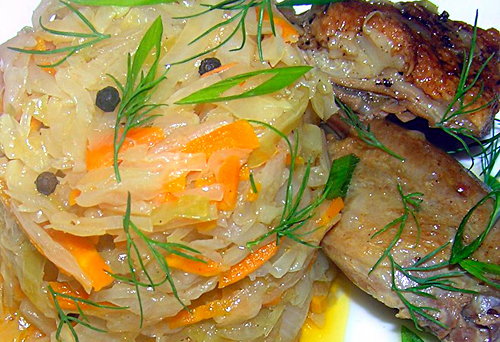 Duck meat is considered a delicacy in many cuisines of the world. The duck is usually supplied on special holidays, often stuffed, eg, apples. Duck meat is considered one of the most balanced on the content of trace elements and nutrients.
"Quenching" mode multivarka perfect for cooking duck, because it supports the same temperature during cooking. A distinctive feature of this temperature regime is, that in the beginning is gradually melted duck fat, and only then browned duck, this way, the meat does not dry up, is soft, crispy crust, but at the same time, school.
Duck with cabbage multivarka
To cook a duck with cabbage in multivarka, we will need:
Indoutka or duck - 0,7 kg, Cabbage - 0,8 kg, 200 g sauerkraut, bow - 1 PC., carrot - 2 PC., spice, ketchup, cream - in 2 st.l., Bay leaf, pepper.
How to cook a duck with cabbage in multivarka?
1. Singe duck and cleaned of feathers, Rinse, dry and cut into pieces a la carte.
2. Grate the pieces of duck with spices and a mixture of ketchup and sour cream, leave to marinate in the fridge for 1,5-2 o'clock.
3. shred cabbage, lightly grind and mix with sour cabbage, chopped onion and grated carrot, you can add herbs, a little salt and pepper to taste.
4. Marinated duck to put in a greased bowl Multivarki skin down, on top of the cabbage put the prepared mixture, add the bay leaf, garlic is optional and black pepper.
5. Set "Quenching" mode 1,5 o'clock, and then "Baking" mode 15 minutes.
6. After cooking, remove the pieces of duck on a platter, cabbage and mix in a bowl and serve it, pouring precipitated juice.
7. If desired,, you can add a layer of sliced ​​potatoes, which are placed on the duck in front of cabbage.