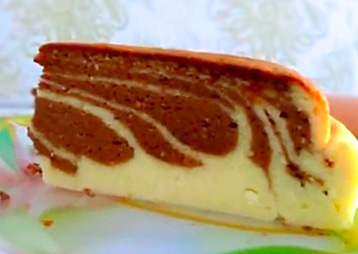 amusing casserole, layers that resemble the coloring of a zebra, preparing is not difficult, and it looks very appetizing and unusual. Cook this casserole for his household, most likely, from this tidbit will not abandon even those, who are absolutely indifferent to the curd!
Cottage cheese casserole "Zebra" in multivarka
To prepare curd pudding "Zebra" in multivarka we need:
egg - 4 PC., Mancala - 3 st.l., cocoa - 2 st.l., natural yoghurt - 100 g, cottage cheese - 0,5 kg, starch - 4 Article. l., sugar - 100 g, vanilla sugar - 1 pack.
How to prepare curd pudding "Zebra" in multivarka?
1. Beat the eggs with a mixer to increase in volume 3-4 fold, gradually podsypaya sugar and continue beating until, until the mixture turns white, add the cheese and continue beating the mixture.
2. Pour into a bowl of semolina, starch and vanilla sugar, continue beating, latest add yogurt or whipped cream, mix well with a mixer mass after each addition product.
3. Curd is divided into two parts, in an ode of them put the cocoa and mix well using a mixer.
4. Multivarki bowl brush with butter, promazhte well and sides of the bowl. Pour the curd mixture into the center of the cup with two ladles, alternating white and dark masses.
5. Bake in "Baking" mode 65 minutes, remove at once, casserole let cool slightly.
6. Serve with sour cream, jam or sweet sauce.
How to prepare curd pudding "Zebra" in multivarka recipe videos: