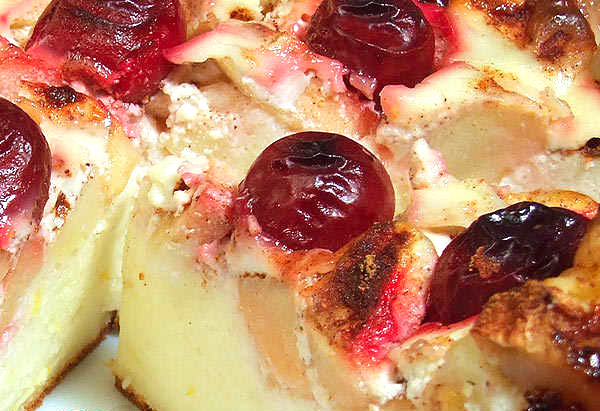 This fruit and cottage cheese casserole turns out very tasty and unusual. From banal casseroles can be cooked a great dessert, but still useful, especially children. Fruit or berries for her, you can choose according to your preference. Try, eg, interesting combination curd pears, raisins, biscuits. Pudding can be decorated with strawberries, raspberry, nuts, chocolate. Excellent opportunities for creative experimentation!
Cottage cheese casserole with fruit in multivarka
To prepare curd pudding in multivarka, we will need:
Cottage cheese - 800 g, flour or semolina - 80 g, sugar - 100 g, salt, eggs - 2 PC., butter, breadcrumbs, fruits (1 an Apple, astrologically), chocolate for decoration, sour cream or fruit sauce for the finished casserole.
How to prepare curd pudding in multivarka?
1. In the curd add eggs and mix well using a mixer, add sugar, pinch of salt. If the cheese is too dry, you can add yogurt or sour cream. Add sugar to your liking.
2. Add the semolina or flour (better rice), mix thoroughly.
3. Koran (8-10 PC.) Rinse and chop, apple wash, clean peel and cut into cubes, add to the curd and mix.
4. Bowl Multivarki plentifully grease with butter and sprinkle with breadcrumbs.
5. Put in a bowl of cottage cheese Multivarki and well leveled.
6. multivarku set in "Baking" mode 60 minutes, at the end of the program to check the readiness casseroles, if necessary, program "Baking" once again set to 10-15 minutes.
7. Casserole can be pulled out of the cup, placing it in a container for steaming and turning him bowl.
8. Serve with sour cream or fruit sauce, It can be decorated with chocolate, jam.
note, that the power at different multivarok, the thinner layer curd, the sooner propechetsya Casserole. Readiness check of the topsheet softness.
How to cook the curd in casserole recipe videos multivarka: