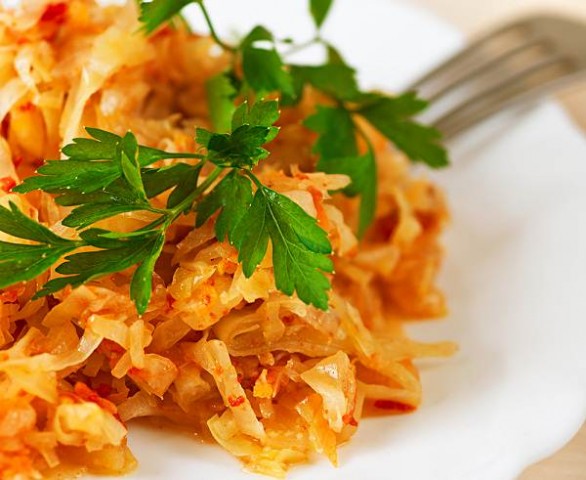 Stewed cabbage can be prepared as a separate dish or as a tasty garnish. It will perfectly blend in with almost any meat or fish dishes, will be enjoyed by lovers of vegetables. And the benefits of cabbage know, perhaps, everything, because it is a source of vitamin U, a powerful anti-ulcer factor, a lot of vitamin C in cabbage, and other substances.
Braised cabbage with potatoes in multivarka
To cook cabbage braised in multivarka, we need:
1 kg cabbage, 5 PC. potato, 1 carrot, 1 bulb, 2 tomato or 1 Article. l. tomato paste, salt, spice, greenery, vegetable oil.
How to cook sauerkraut with potatoes multivarka?
1. Prepare all the vegetables and herbs, Rinse, clean. Grate the carrots on a coarse grater.
2. Chop the onion and cabbage, Potatoes cut into cubes.
3. In multivarku pour vegetable oil and turn on the "Baking".
4. Fry lightly onions and carrots, add tomatoes or tomato paste, snuff out 5 minutes, stirring, refill 1 Article. hot water, place in a bowl of cabbage and potatoes. salt, pepper and mix, to disable the mode "Pastries" and set the mode "Stewing" on 40-50 minutes.
5. Cook until the end of the program, sprinkle with herbs.
Cooking Tips:
Cabbage stew can be cooked with minced meat or sausages, sausages. To do this, saute minced or diced sausage or sausage with onions and carrots, and then proceed with a prescription.
How to cook a stew of cabbage multivarka recipe videos: