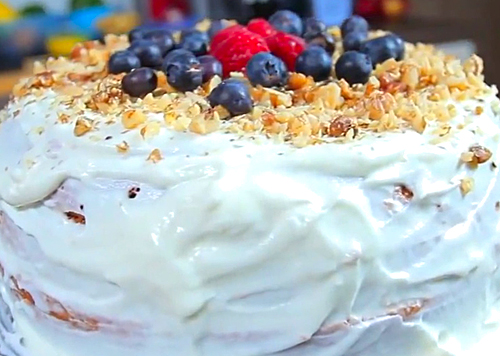 Smetannikov commonly called Cake, in the dough and cream which includes a cream. He gives a very gentle and airy, especially when cooked in multivarka. Small secret preparation lush sour cream is, that the cream should not be a long time to shake up with sugar, because it dilutes the sugar, dissolving. Besides, sour cream originally to be bold and very cold. Note, that magnificent thickener for sour cream is lemon juice.
1. Cake Smetannikov "Day and Night" in multivarka
To prepare Smetannikov in multivarka, we will need:
for the dough: 2 eggs, 100 g butter, 150 g sahara, 200 ml 20% sour cream, flour - 200 g, vanilla sugar - 0,5 bags, baking powder - 1 bag, Oil for lubrication form, cocoa - 1 st.l.
cream: 500 ml. sour cream, 150 g sahara, lemon juice from 0,5 lemon.
How to cook a cake Smetannikov "Day and Night" in multivarka?
1. Grease the bowl with oil Multivarki. Sift flour and mix with baking powder.
2. Eggs with a mixer whip with sugar until fluffy foam and add the soft butter, continuing to whisk, Add the vanilla sugar and cream.
3. podsypaya flour, stir with a spoon until uniform dough. Keep, the dough is not too thick, it should be in consistency like thick cream.
4. Divide the dough into two parts and one part add cocoa to add, stir well. In a bowl Multivarki spread the dough layers, alternating light and dark layer.
5. bake the cake in "Baking" mode 50-60 minutes, leave to cool for another 10 minutes, without opening the lid. Cake cut into pieces horizontally and smear with cream cakes and sides of cake, decorate with chopped nuts. Give the cake to soak 2 o'clock.
6. Cream: It should be cold cream, add to it the sugar and whisk a few minutes, then add the lemon juice and continue beating until fluffy, about 7 minutes.
2. Smetannikov on condensed milk
To prepare Smetannikov on condensed milk, we will need:
For the cake : flour - 1,5 c., butter - 100 g, condensed milk - 200 g, cream - 200 g, baking powder - 10 g, egg - 2 PC., butter for greasing the bowl, sugar - 0,7 Article.
cream: Cream 20% – 600 g, powdered sugar - 70 g thickener for cream - 30 g (or the juice of ½ lemon), Vanilla sugar - 1 bag.
How to cook Smetannikov on condensed milk?
1. Nuts to grind, flour mixed with baking powder, a pinch of salt and vanilla sugar.
2. Multivarki oiled bowl.
3. Whisk eggs with sugar, then add melted butter, sour cream, condensed milk and flour in portions, continuing to stir until smooth.
4. The resulting dough is placed in a bowl Multivarki, smooth the surface and bake in "Baking" program 1 time.
5. To prepare the cream whip cream 2-3 minutes with powdered sugar or sugar and add a thickener to the cream or lemon juice and beat until fluffy.
6. Cake cut into pieces and coat with sour cream, then lubricate the sides of the cake.
7. Top sprinkle with nuts and garnish with fresh berries to taste.