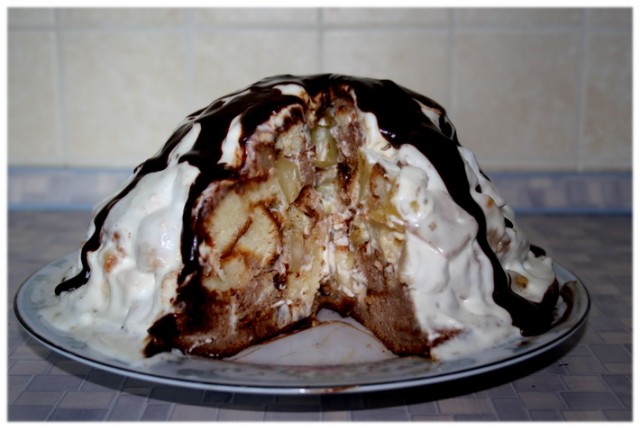 This cake with sour cream a real masterpiece of confectionary. It can be prepared with fruit or berries, add nuts, chocolate. He has a very original form, a slide or turret, built of blocks of sponge cake with pieces of fruit and nuts.
cake base - biscuit in multivarka turns out just fine!
Cake "Pancho" in multivarka
To prepare the cake, "Pancho" in multivarka, we will need:
6 eggs, 1 Article. Sahara, 6 st.l. vegetable oil deodorized, 1,5 ch.l. soda, slaked 0,5 st.l. apple cider vinegar (or a pack of baking powder 10 g), 1,5 Article. flour, 3 st.l. cocoa.
cream: 0,6 kg of sour cream (20-30%), 1 Article. Sahara, juice of ½ lemon.
For the filling: canned pineapple - 350 g, nuts - 1 Article.
glaze: 1,5 Article. milk, 2 st.l. cocoa, 2 st.l. Sahara, 100 g butter, 4 st.l. flour.
How to cook the cake "Pancho" in multivarka?
1. Egg whisk with sugar at a mixer before the increase in volume 3 fold, about 5-7 minutes.
2. Add the vegetable oil and continue whisking 2 minutes, a pinch of salt and baking soda, slaked vinegar. Gradually add the sifted flour and mix. Testo share on 2 in one portion and add cocoa, stir.
3. Pour the brown dough with cocoa into the greased bowl of the multicooker and put the white dough on top of it., flatten an upper surface. Bake cake in "Baking" mode about 1 time 20 minutes. Take out through 10-15 minutes and allowed to cool.
4. The cooled completely cut the cake horizontally into two cake, wherein lower cake should be 1/3 of the total height. Top the cake cut into cubes for 3 cm.
5. For the cream, beat the cream and the juice of half a lemon, adding sugar.
6. Lower dark cake impregnate juice from canned pineapple (250 ml).
7. Canned pineapple cut into cubes.
8. Cubes of chopped top pour sour cream cake, stir and give them a soak 5-10 minutes. You can also just dip each cube in the cream before going on the cake.
9. Lower cake coat with sour cream, Put the cubes of pineapple and nuts, then cubes of sponge cake.
10. Then repeat more layers pineapple, nuts and biscuit cubes, creating a hill, tapering to the top.
11. Gorka pour glaze: mix the sugar with the cocoa and flour, add milk and put on fire, stirring constantly, bring to a boil thickens and almost, adding butter and stir until smooth.
We pour the hot glaze cake and distribute it all over the surface with a brush, sprinkle with nuts. Put in the fridge for 4-6 hours. Possible instead of icing with cocoa just to cover the cake sour cream and garnish with chocolate stripes.
Cooking Tips:
This cake can be prepared with such fruits as the, eg, cherry, bananas, peaches, you can mix different fruits to taste. Nuts can also be used not only walnuts, but almonds, peanut, funduk, cashews, etc..
Sour cream can also be mixed with whipped heavy cream until fluffy, but you can use cream instead of whipped cream with powdered sugar.
Cake "Pancho" video recipe: