Long hair are the natural decoration girl. However, to grow hair can not please everyone. The main problems are the appearance of dry ends, increased loss, section and fragility. Grow hair below the belt can be, carrying out competent care for them.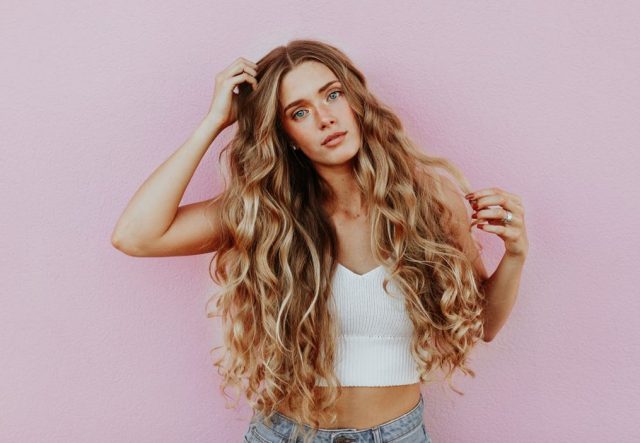 The physiology of hair growth
is on the person's head On average, each hair to 10 years old. Such a measure is possible to reach, exercising daily care. On average, the figure is 5-7 years old. In one month, the length can be increased by 1,5 cm. Significance individually. If there is a deficit to be any substance, growth may be completely absent. If you observe the best professionals top tips, rate of hair growth can be accelerated to 2 cm per month. This is the maximum value. Given its, You can roughly calculate, how it will be able to grow hair. During the year, with a maximum increase in length will increase by 24 cm. theoretical figure.
If a woman wants to have healthy long hair, they must be cut. Monthly need to cut at least 0,5 cm. As a result, a year will have to get rid of 6 cm. As a result, the maximum gain can not be more than 18 cm per year. This indicator provided careful maintenance, intense power and influence of a list of factors. It is not necessary to believe advertising, that promise to get a boost 10-20 See this month. To achieve the desired effect, necessary to make a rough calculation and self-understanding, how long it takes to achieve results.
Why can not achieve the goal?
On the growth rate is influenced by a list of factors. Important to take into account:
Nutrition. Drinking adequate amounts of essential body substances actually half the battle. Hair consists mainly of amino acids and protein. Composed of trace elements and vitamins. If there is an imbalance, it will certainly affect the condition of hair. It is therefore important to follow the diet.
Circulation. If there is a lack of blood flow rate, this leads to braking of nutrients entering the hair follicles. As a result, they move to the so-called sleep mode. Even if the body in sufficient quantity fed vitamins and minerals, hair stops growing. In this situation, help in the struggle with the problem and is capable of performing massage Kneipp.
Stress. On the condition of hair affects nerve strain, mental overload, stressful situations. In this situation it is difficult to identify the root cause of the problem. It may be six months before the beginning of the deterioration of the appearance of the hairstyle. It is important to learn to relax. It is recommended to use the technique of meditation or autogenous. The result will have to wait.
There is a genetic predisposition. The growth rate depends on heredity. However, if the family does not produce dense long hair, do not despair. Sometimes people do not pay enough attention to care. Manage to grow hair. To do this will take a series of measures. However, you need to understand, that the rate of increase in the length of the curl can be retarded.
The use of drugs. People often ignore the reading of instructions. Typically, the study ends with a section dosage. Often the side effects of not paying attention. Hair loss may be present in their list. If a person is forced to use such drugs, better to find an alternative together with the doctor. Sometimes it can help peeled and medicines, manufactured abroad. they usually have a smaller list of side effects. However, if you do not manage to give up medication, grow my hair will turn just after the end of treatment.
The presence of acute and chronic diseases. Hair can fall out as a result of metabolic disorders or food digestion process in the stomach. On this depends the power of hair follicles.
A haircut. Razbirayasy, how to quickly grow hair, women often waive their trimming. However, experts do not recommend to neglect the influence of. It is necessary to prune the tips. Getting rid of split ends, man improves the beauty of hair and stimulates the growth of curls.
physiological processes. The intensity of growth is enhanced in the spring and summer. The rate of rise to peak age 16-24 of the year. However, in later years to get beautiful curls succeed. However, waiting for the first results may take longer.
competent care. Today, women use a lot of styling products. it curlers, rectifiers, curling irons and hair dryers, mousses, foams and gels. Devices and cosmetic products allow you to create different hairstyles. However, it affects the health of curls. They begin to break off, become drier. It is therefore recommended to carry out sound approach.
Top best tips for hair otraschivaniya
To quickly grow hair at home, you must comply with a number of measures. So, it is recommended to give up the daily shampooing. Shampoo not only washes away dirt and styling products. At the sebum goes with them. It is necessary for the protection and moisturizing hair and scalp. If you wash your hair too often, they lose their natural shine. Effect aggressive environmental factors will increase. weakened hair. Hair will quickly get dirty. As a result, the skin becomes a stressful condition. Sebum production begins to rise. Dirty hair quickly. Recommended gradually increase the intervals between treatments. Ideal execute them two or three times a week.
Experts advise to use shampoo bezsulfatnye. They contribute to the creation of foam. The Daily Conditioner substances are replaced by natural ingredients. As a result, the purification is carried out more carefully. However, there is a lack of shampoo. They do not foam. Gradually, however, a woman gets used to it. Regardless of the shampoo, it should be applied only to the roots. For the rest of the hair is enough amount of money, which is drained along with the water.
It is necessary to reduce the temperature of the water. The process is recommended to carry out at least during rinsing. Cool liquid promotes hardenability. As a result, hair look shiny and healthy. Additionally, you should use balm, rinse and air conditioning. Means smoothes hair and fills them with the necessary materials.
It is necessary to regularly make masks. It is recommended to perform them at least twice a week. However, if there are to be split dry ends, intensive recovery course is often.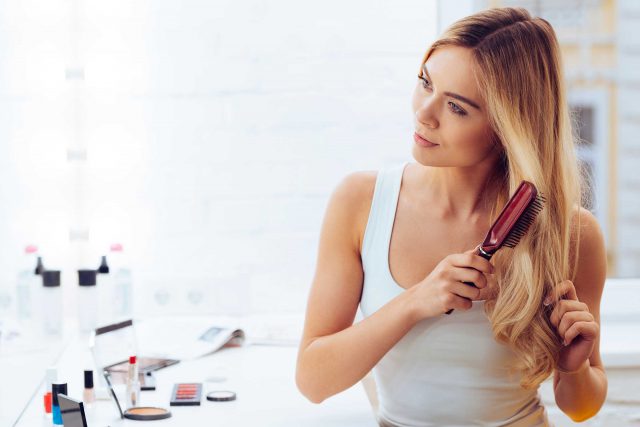 Able to help and the use of hair oils. Means applied to damp strands or used after installation. It promotes nutrition. With its help it is possible to close the scales. Hair get healthy appearance, become thicker.
Must be taken care when using the activator of hair growth. Experts advise not to purchase products, promising quick results. Professionals are skeptical shampoos, promising to activate curls growth. Typically, these products are the marketing ploy. Using a shampoo made hair cleansing. At the same time on the curls tools does not remain. He was immediately wash. Therefore, the active substance does not have time to act.
From the use of hair dryers and irons are advised not. If you make every day drying with hot air, it has a debilitating effect on the hair. Irons and curling irons heat up 200 degrees. Dry your hair naturally better.
It is recommended to use a hair thermal protection. If you want to put locks, hairdryer and ironing of an exception can still be. However, before this need to apply the cleanser for hair thermal protection. Products to create curls film. It protects against the negative impact. It is important to carefully study the instructions. Usually the manufacturer indicates the temperature, at which the means starts to operate.
It is not necessary to wrap the hair in a towel. Such drying is able to harm. The towel should also be suitably. It is recommended to give preference to soft device with a short nap. Rub and squeeze the hair is not worth. It recommended gentle movements to get wet. Wrapping in a tight turban is capable of easily damaged hair, because they wet the most vulnerable.
Strongly recommended to go to bed with a wet head. Night due to friction with the pillow wet injury occurs tips. In the morning a woman wakes up with matted hair, that stick out in all directions.
Pillowcases pillows should be replaced. Hair may start to break even split because of the hard bed linen. Therefore it is better to buy silk pillowcases. They allow you to minimize the trauma of hair. As a result, a woman to get rid of the need to comb out tangles in the morning.
Brushing must be done carefully. The hair is not recommended to bother until, as long as they do not dry out. Then you should use the means, Detangles. So, spray application unravels strands. Combing recommend starting with no roots, and with all. This will minimize the appearance of tangles. Besides, thus it is able to distribute the sebum and naturally put locks.
You should regularly visit the hairdresser. Cut hair is recommended at least once every three months.
The menu is recommended to include plenty of vegetables, fish and vegetables. Favor the use of bring trout, mackerel and tuna. protein-rich products, and omega-3 acids. It is recommended to eat vegetables and fruits, containing iron. Help grow hair apples and cabbage. It is necessary to drink plenty of fluids. Dehydration leads to dry and brittle hair. The use of pharmacy of vitamins must be carried out after consultation with the doctor.
There are other useful tips, allowing to grow hair.
Performing masks
figuring out, how to grow hair at home, she finds out, that can help mask. They are recommended for the prevention or to restore curls. The mask can be purchased at the store or do it yourself. It is recommended to give preference to Drugs, which is written on the packaging:
nutrition;
recovery;
humidification.
It should be familiar with the composition of. It is better, if there are a large number of natural components. First of all it must be free of oil. What is important is the order of the ingredients on the label. If oil is present, but it appears at the end of the list, this indicates, that component is very small. Initially, the mask should be applied to the tips. After that, it spread over the entire length of hair. From the roots need to withdraw some 10 cm. If a woman has got a mask in the store, means you need to keep within 30 minutes. The exact date is indicated on the packaging. It is important to follow the manufacturer's instructions. Do not rush to wash facility. It is necessary to give a useful component of feed.
There is also a proven way. Possible to carry out a honey mask. For this purpose, the egg yolk is mixed with the audio of honey. The mass is added a few drops of lemon juice. The mixture is applied to clean hair for one hour. After that, the mask is washed off.
Lifestyle change
To grow hair male or female, recommended lifestyle changes. It is important to get enough sleep. It is recommended to give the sleep process 8-10 hours. During the rest of the body is restored. If a person does not sleep, Hair growth may stop completely.
It is important to give up bad habits. They have a negative effect on the body as a whole. It is recommended to reduce stress. Nerve strain can lead to hair loss and lower growth. If a person suffers from stress, it is recommended to try yoga and other forms of exercise.
proper nutrition
If a person wants to grow hair after a haircut, it is important to review the daily menu. The diet has an effect on growth rate and appearance of curls. The hardest thing to deal with the problem of women, consistently adhere to a diet. This results in a loss of nutrients by the body, minerals and vitamins. As a result, weakened hair. It is important to make a full daily menu. Its structure must enable products, are rich in protein and omega fatty acids. it:
cottage cheese;
meat;
eggs;
a fish;
nuts.
It is important to ensure saturation curls beneficial vitamins and minerals. This will help consumption of dairy products, vegetable oils, vegetables, cereals, green, fruits and liver. But fast food, sweets, pastries, canned food and other products, containing a large number of fast carbohydrates, dyes and artificial flavors from the daily diet is better to exclude. It is recommended to drink plenty of fluids. Preference should be given clean drinking water, herbal tea, compotes, juice, and other healthy drinks. They help cleanse the body, deducing therefrom harmful substances, and normalize balance. This has a positive effect on the state weakened and dry hair.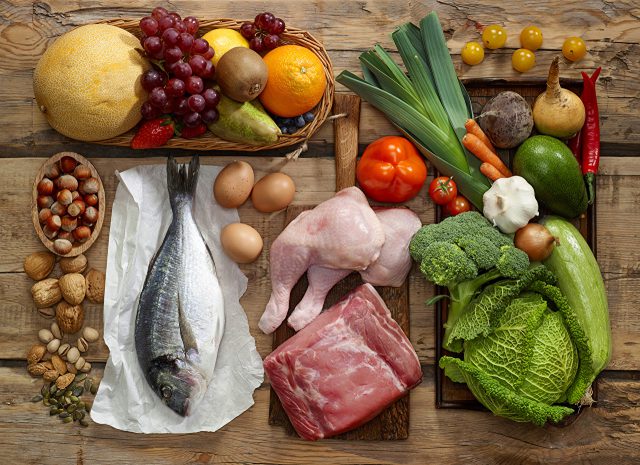 And will favor the use of vitamin and mineral complexes. It is important to take medicines, that are specifically designed to strengthen the hair. It is advisable to consult a specialist. Vitamin and mineral complex contains useful minerals. It is advisable to carry out a course of taking vitamins at least twice a year. The most popular drugs, allowing to accelerate the growth of hair, act Perfectil, Pantovigar, Revalid and Alerana. Help grow hair silicon, magnesium, calcium, chromium, biotin, iodine and a number of other substances.
treatment of diseases
If a person wants to grow hair on 20 cm, it is important to monitor the condition of the body. From its functioning as a whole depends on the status of individual parts, including hair. So, You do not need to run a chronic disease. Periodically worth visiting specialist. The course of treatment procedures should be carried out in a timely manner. Do not neglect taking drugs. One reason for the fading trichologists hair growth is called a gastric ulcer. This also includes diabetes. Pathologies of metabolic processes also adversely affect the condition of the body. You need to be examined even in the case of, If a health problem is not observed. May be present hidden ailments.
The timely detection of the disease will help to cope with them faster. The presence of changes in the hormonal background, and gastrointestinal disturbances have an impact on the growth rate of curls and their appearance. If there are acute diseases, it is crucial to seek medical advice. It is important to get tested and get rid of control problems. All disease must be treated in a timely manner. When recovery is achieved, it is recommended to drink away a course of vitamins month.
Kneipp
Grow hair boys and girls help Kneipp. It is recommended to carry out at the end of hygienic procedures. performing dousing, it is important to monitor the temperature. Considered favorable range 33 to 42 degrees. Apply too high and low temperatures is not recommended. Such an impact will have a negative impact.
Hair care
If a person wants to grow short hair, it is important to pay attention to the competent care of curls. So, selection of hygiene should be carried out individually. Selection of shampoo and other means is made depending on the type of curls. It is recommended to give preference to cosmetic products, containing natural oils, growth factors and trace elements of natural origin. The above components must be shown first in the composition.
If necessary, coloring, recommended refuse ammonia-containing paints. Fall under the ban performance highlights, the use of peroxide, execution of a wave, carving, lamination and a number of other procedures, adversely impact. If the need for staining is present, better use henna or basma. Correctly choosing the proportions, you can get a large number of shades. Natural colors have a stimulating effect on the growth of curls. Substances enrich strands trace elements and vitamins.
Comb as necessary to select the correct. It is better to use products made from natural materials. Bristles should be made of wool or horsehair. In this case, the frame itself is to be made of beech wood, birch, juniper or oak. Combing recommended 3-4 times a day. Comb must be changed periodically. The procedure is recommended to perform at least once in six months. every 7-8 days need to wash the brush in warm water. The liquid soap is added.
It is recommended not to expose the hair to direct sunlight. If a person visits a bath, you should always wear a hat. In the winter period of time it is recommended to wear a hat. Impact too low and too high temperatures have a negative influence on the growth of curls.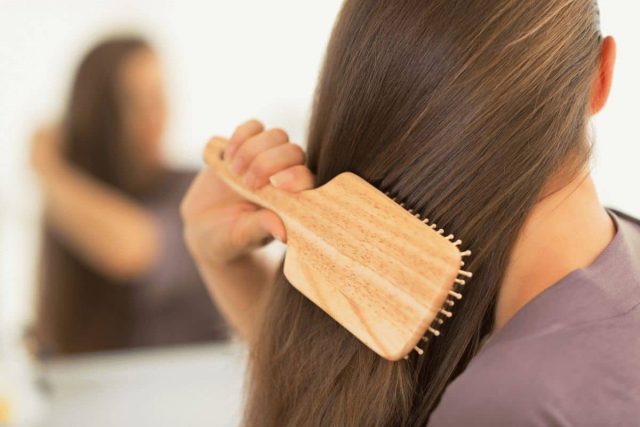 If a person wants to grow hair after a short haircut, it is important to refuse to comply with other hairstyles, Use rubber bands and other decorative elements. Their use increases the risk of pulling hairs.
mowing
To grow long hair male or female, it is important to perform a haircut. With the help of the split ends removed. Exposure to stimulate the growth of curls. Initially, the maximum number of removed damaged tips. Experts advise to leave the predominantly healthy hair. Subsequently made about removal 0,5 cm. The action is taken for the recovery of. To the effect became more prominent, it is recommended to use hot tools. But the impact of temperature is selected individually. These scissors can prevent subsequent delamination. ringlets, hairstyle which is performed hot scissors, more obedient when laying.
You can resort to a trick from his ancestors. So, Previously, women performed a haircut only at the growing moon. This is the gap between the 2 and 13 lunar day. According to popular belief, at this time of shearing will stimulate the growth of the strands.
Cosmetics
special multivitamin complexes in Europe today are designed, to significantly accelerate the growth of hair. The structure means includes active substance, able to penetrate deep into the hair shaft and saturate them useful substances from the inside. Positively proven:
The company produces serum. They possess a reducing effect.
Vitex. Under the brand produced activators. They contain biotin, cashmere proteins, caffeine.
Stvolamin. This is the domestic manufacturer, which manufactures products, comprising hyaluronic acid and plant extracts.
Under the brand produce activators. The composition includes castor oil and burdock.
Experts recommend the use of a specialized lotion, Shampoo and Hair Tonic. It is important to purchase cosmetic products in specialized outlets. It is important to give preference to cosmetic products, containing no silicones. It is better to use the products of famous brands.
To grow hair, you can resort to the help of so-called ampul.Eto means, activating hair growth. They are easy to use. To carry out required to open the vial contents and rub into the hair roots. The means is the concentration of bioactive substances. They have a moisturizing and nourishing effects. In addition, there are strengthening keratin layer. Ampoule prolongs the hair growth phase. Course of treatment 2-3 of the month. The procedure is recommended twice a week. Selection of preparations carried out individually. Pre-need to consult a beautician or a trichologist.
Oils for Hair Growth
If a person wants to grow hair, it will help the oil masks. This is another of the home recipes options. Positive feedback had earned mask, prepared on the basis of burdock oil. To use, We need to take burdock, Castor oil and other base. The mixture is heated. It is important to bring the facility to a warm state. If there is a desire, you can add two or three drops of essential oils. It is recommended to use tea tree oil or rosemary. Obtain funds necessary to rub into the scalp. Then it is distributed evenly over the entire length. Mask should be left on the head of one to 3 hours. If your hair seems too bold, can be replaced with castor oil to other lighter or even stop using it.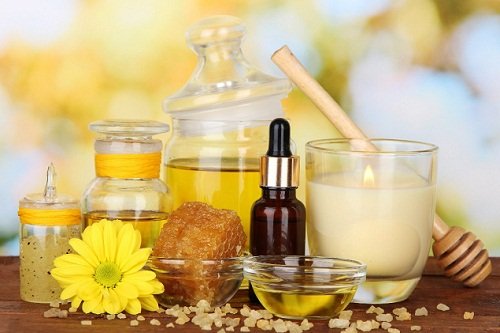 Professional practices
If you want to grow hair on 10 cm, you can enlist the help of salon procedures. Specialized organization is ready to offer its customers a list of methods of influence. So, may be performed mesotherapy. The essence of the procedure is administered subcutaneously cocktail, consisting of biologically active components, vitamins and other substances, will accelerate the growth of curls. The impact is carried out on the scalp. cocktail selection is carried out individually. In order to achieve positive results and to fix the resulting effect, must also 8-10 procedures.
Sometimes employs a laser comb. This is a special device, having a nozzle. It looks like a classic comb. When a customer device for hair, Laser rays affect the skin, slightly warming it. The result is a positive effect on cells, enhanced recovery processes. Have improved food hair follicles. Exposure to laser comb is also conducted courses.
The patient may be asked to perform darsonvalization. The process is also carried out with a special instrument. By design, it resembles an ordinary comb. However, along the ridges passes low-frequency electrical impulses. Carried out shock therapy. It allows you to activate the process of restoration and renewal of cellular structures. In order to achieve a positive effect, you must carry 12-15 procedures.
Ozone therapy is similar to mesotherapy. However, as the active substance is applied ozone. The process is carried out using a small needle. A positive effect can be achieved due to the activation of the power and stimulate the functioning of hair follicles. Hair will grow faster, if the pass rate, consisting of 10-12 procedures.
The salons offer customers perform massage to accelerate hair growth. Physical effects can improve blood circulation, blood flow and lymph flow. As a result, hair get more nutrition. The course consists of 7-12 sessions.