Lips are considered the most sensitive and seductive part of the face. They give the image of attractiveness. However, to make them look attractive, We need to care for lips. The area is also prone to adverse effects of external environment. To lips look attractive, will cleanse them, perform mask, humidify and purify.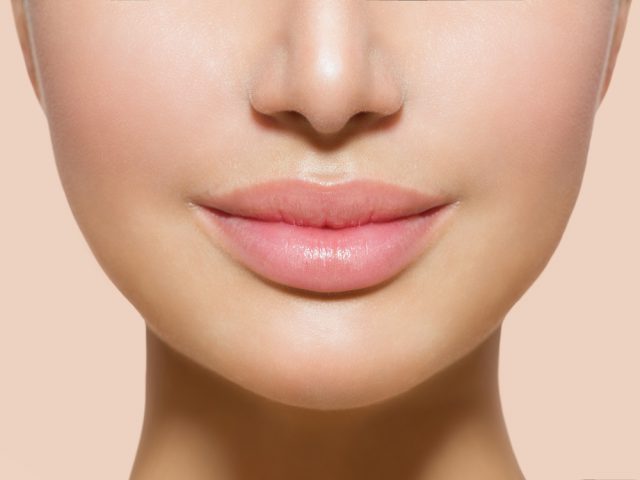 A bit of lip skin
Care of the lips is an important part of the daily guidance of beauty. The procedure must be carried out correctly. In the mouth is almost no sebaceous glands. Only a small amount is placed in the corners. If you do not care for the area, there will be cracks. It may be dry and peeling. If the lips are dry, carefully apply makeup will not work. A person may experience discomfort. Therefore it is better to maintain a healthy state of the lips, than periodically carry out its recovery.
The causes of the deterioration of the state of the lips
Lip skin is different sensitivity. It is therefore important to carry out competent care. reasons, worsening the situation of the region, many. The skin starts to peel off, if a person is often exposed to stressful situations. As a result, the area becomes thinner. When a woman is nervous, there is a loss of nutrients and water. This is reflected on the skin as a whole.
Health does not add the presence of harmful habits. The list includes biting and licking lips. If the process is carried out in the winter, negative result becomes evident more quickly. Addiction is considered the use of harmful food, smoking and alcoholic beverages. Cigarettes and alcohol have a dehydrating effect on the body. As a result, the lips begin to peel and crack. Is influenced by external factors. Worsens the condition of the area is windy or sunny weather, as well as staying in environmentally disadvantaged areas.
Provoke peeling capable beriberi, features of the structure and age-related changes. It has a decisive influence cosmetics. These properties are matte liquid lipstick. In fact, its structure does not include important components. If a woman wants to use it, It needs to implement enhanced care for lips. It is produced both before and after applying lipstick.
Top best tips for lip care
Care of the lips should be carried out after any procedures. The skin in this area is very delicate. Care must be carried out correctly. Originally performed exfoliation. If you use lipstick or other cosmetics, you can not leave it for the night. Removal should be done every evening before heading to bed. The procedure is performed using the sponge. It is recommended to moisten it in a vegetable oil.
Will benefit daily exfoliation. Acceptable use of conventional scrub. However, it should be rubbed on the lips. Allowed to use the toothbrush. It allows you to perform a kind of massage. Effects is a circular motion. The procedure is carried out for 2 minutes. Increase blood circulation promotes the use of terry towels. Wipe clean the area they need to once a day. The procedure allows to remove the plaque and remove dead skin flakes. You can purchase a special mask for lips, having peeling effect. They can be bought in a store cosmetics or order via the Internet. The oil is recommended 1-2 times a week.
Do not forget about moisturizing. To perform the procedure used balms and masks. At night, it is recommended to apply a special cream or chapstick. This will help reduce the risk of drying out. Positive influence renders the mixture of castor oil and olive. It is able to moisturize the skin epidermis and saturate the necessary materials. Remedy is applied before bedtime. It is necessary a small amount of oil. Its distribution area is executed using a cotton sponge. The process is accompanied by a light massage. Then the excess is removed. The procedure is performed using wipes. Manipulate recommended daily. If it's cold season, Mask with oil is carried out not only in the evening. It is recommended to carry them over 60 minutes before going outside. The method will create a protective film on the lips. As a result, the risk of frostbite significantly reduced.
Care Lip suggests saturation region nutrients. To this end, the compositions are applied, that can penetrate deep into the skin. It is recommended to purchase the vitamins A and E. They are sold in pharmacies. The substance is sold in ampoules. Vitamins are applied alternately in a day. Remedy rubbed into the skin. Removal of the oil is not carried out. The substance is completely absorbed. Use a similar composition can be before going to work. The substance is mixed with vitamin A. After that, the lips lapped. Funds should be left for half an hour. After that, the excess removed with a paper towel or napkins. Then the applied protective moisturizing balm or gloss.
Saturate the lips with all necessary materials will be able to use acquired funds. You can use mask-scrub, which is prepared on the basis of candied honey. It is well applied to the depth. Then, the light massage. The mass should be left to 20 minutes. The tool then washed. On the cleared area to apply moisturizer. Bring benefit and use of yogurt. It needs to be applied once a day. Means left on the field to dry. After that it washed off. Yogurt is inexpensive. The product is able to solve a long list of challenges for lip care.
There are other ways to care for the area. Selection of an appropriate matter of personal preference.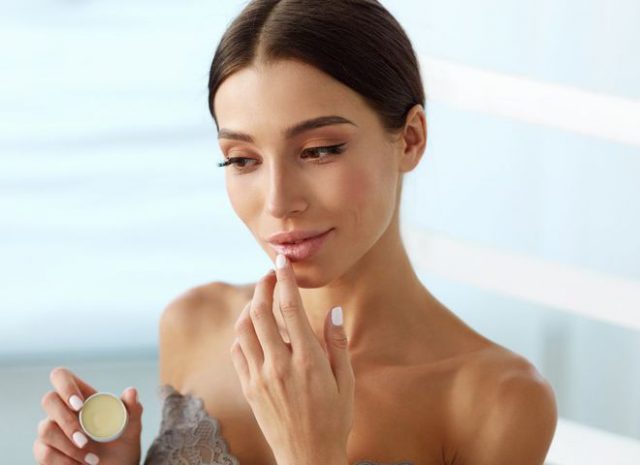 Exercising
Care of the lips suggests and systematic execution of various exercises. Their use is combined with the regular use of cosmetic products. You can enlist the help of the following actions:
Start depict letters of the alphabet. Exercise is repeated 8-12 time.
Language pushed forward as much as possible. This position must be fixed on 5-7 seconds. After that, it will return to its original position. Then you need to relax 3-4 seconds. Next, you will perform a re-exposure. Exercise involves 6-8 repeats.
Lips folded tube. You need to imitate the whistle. The air issued sly. You can imagine, that the person is trying to extinguish the candle on the cake. The procedure is repeated 10-12 time.
The lower jaw is pushed forward along with the lip. The procedure is then repeated in different directions. Lips have to keep on their toes. The exercise is performed 15 time.
It has to take a deep breath, steady. Lips tight close up, strongly inflated cheeks. Then will start to blow air. The opening between the lips should be small. The process is slow. The remainder of the air is pushed out quickly and with force. Exercise involves 15 repeats.
You need to open your mouth and pull slightly forward lip. It is necessary to try to simulate the aquarium fish, which is occupied by food absorption. You need to relax and close my lips. Exercise involves 10 repeats.
proper nutrition
Care lip skin requires proper nutrition. The internal state of the organism depends on external beauty. If the lack of fatty acids occurs or vitamins in the diet, it is instantly reflected on the state of. It is necessary to revise the daily diet. The oily fish should be part of the menu. This may be a sturgeon, halibut, acne, mackerel or Pacific saury. Bring benefit and nuts. It is recommended to use walnuts or peanuts. In the menu you want to include and pumpkin seeds.
Food should be used together with vegetable oils. Positive effect on the skin of the lips have Rape, olive, sesame. It is necessary to use a sufficient amount of greens and vegetables. In the menu you want to include brussel sprouts, spinach, pumpkin and parsley. Abuse of acute and smoking also can lead to dryness, occurrence of cracks and flaking.
Performing masks
Home care for the lips should include making masks. In the summer a lot of vegetables and fruits. They can be used for lip care. Vegetables and fruits are peeled. Then they need to grate. Masks made of:
watermelon and melon;
cucumber or beet;
bananas or apples;
gooseberry, strawberries or currants.
Acceptable use and other vegetables and fruits. meat, which was obtained after using a grater, mixed with a small amount of butter. Then the resulting mass is applied to the lips. when expires 10-15 minutes, It occurs residue removal. Fruit and vegetable masks promote skin nutrition, moisturizing and softening it.
Satisfy the necessary materials and are capable of curd mask. they are used, to make the skin softer. To prepare the tools you need to take 1/2 no. l. cottage cheese. He should be bold. Better use of domestic products. Means mixed with 1. no. l. cream. The resulting mass should be well grind. Then, the mask layer is recommended to apply on lip ample surface. The product is left in the field to 10-15 minutes. Then you need to wash off the mask. After the procedure the area is lubricated by a small amount of chapstick. If for any reason it is impossible to use cream, may be mixed with milk curd, vegetable oil, vegetable juices.
You can apply a mask of sour cream for lips. It will take a tea spoon tools. It added 2-3 drops of lemon juice. And require a similar amount of vegetable oil. It can be any. The mask is applied a thick layer on the surface of the lips. Means to be left on the field at the 15-20 minutes.
Removing dirt and peeling
Purification of the lips is required to perform in the first place. The procedure consists of getting rid of dirt and residues of makeup. Cleansing should be done on a daily basis. The process is performed using conventional emulsion or cleansing milk. Acceptable application of the same means, that is used in relation to the rest of the facial skin.
The positive impact has exfoliating peels. It should be done 1 once a week. More frequent use of inadmissible. To perform the procedure used candied honey. If it is not, suitable sugar. It is mixed with vegetable oil in prroportsii 1 to 1. Weight is applied to the circular motion area. They should be light. It is not necessary to stretch the skin. This can cause her premature deformation. As a result, any wrinkles.
saturation humidity
Any lipstick dry lips. Therefore it is required to apply a moisturizing composition. He helps to restore skin protective properties. The main components are the moisturizing oils. It can be vegetable or animal oils. Care of the lips should include the application of moisturizing masks. This will restore the connection between the lipid layers of the epidermis cells. Protective barrier rise. Appearance will. Lips will look healthier, acquire creaminess and smoothness. Today there are a large number of masks and balms options. They can be purchased or made yourself.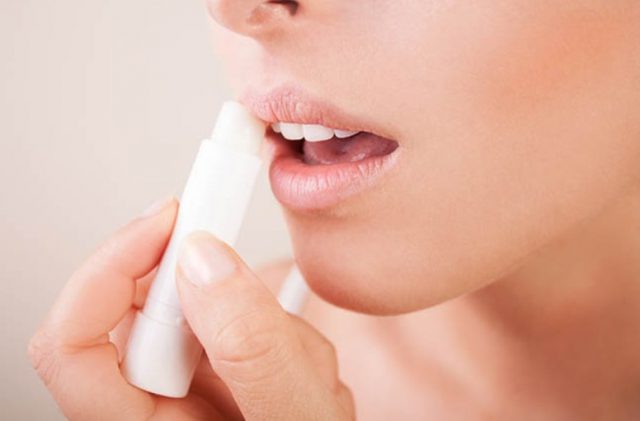 So, moisturize lips mask capable of coconut and honey. It is necessary for a teaspoon of each substance. Further uses a similar amount of olive oil or almond. Coconut oil previously melted. The process is carried out using a water bath. Then made almond oil and honey. The substances are thoroughly mixed with each other. The resulting mass is necessary to cool. Means applied to 15-20 minutes. After it is removed by using warm water.
Will benefit and the use of pure plant oils. This may be olive, sea ​​buckthorn, almond, coconut, Shea Butter. To increase effect enables the application of liquid fat-soluble vitamins. And it, D, E and T. The oil was applied in a thin layer. The procedure is carried out at night before bedtime. The use of oil is acceptable in case of feeling, that her lips were dry and need moisture.
caring cosmetics
Lip care, you can use makeup. Improve the skin balms help. They saturate the area with necessary substances and moisturize it. Creams allow restore youth lips, tighten the skin. Scrubs exfoliate and renew cells. Useful application and serums. To perform skin care, You can use butter. Bring material benefit, derived from sea buckthorn. It has a strong healing effect. It is recommended to use cosmetic products, containing collagen. It prevents the onset of premature aging. Producing a selection of funds, it is recommended to give preference cosmetics, which comprises peptides. After their application the skin is taut, velvety, soft and tender. It helps to retain moisture, hyaluronic acid.
Cosmetics recommended for use at night. A number of creams to achieve the effect you want to keep at least half an hour. Thereafter, their flushing water. Before using any product you want to read the instructions carefully, attached to it. Care Lip involves the use chapstick. It should contain feed, humectants. The facility can be used at any time of year and day.
Gentle Skin Care provides cosmetics. It may be properly chosen lipstick or gloss. it's desirable, to in the media were kept caring ingredients and vitamins. By the selection of cosmetics should be approached carefully. It is important to choose the means, guided not only by its brand name, but also the composition. Substandard products brings more harm, than good. After its application may occur deterioration state lips. By purchasing lipstick, you need to take into account the shelf life. Until its completion should remain at least 3 of the month.
Conducting massage
Balms lip care must be used in conjunction with the implementation of massage. It promotes better blood circulation. As a result, the lips become more bright shade. To achieve the pronounced positive results it is recommended to perform exposure at home. Easy to learn how to massage. Within a few minutes, it is required to provide the scope of incoming traffic light. Bring benefit lip massage using the toothbrush. But do not have too much pressure. In this situation, you can damage the skin.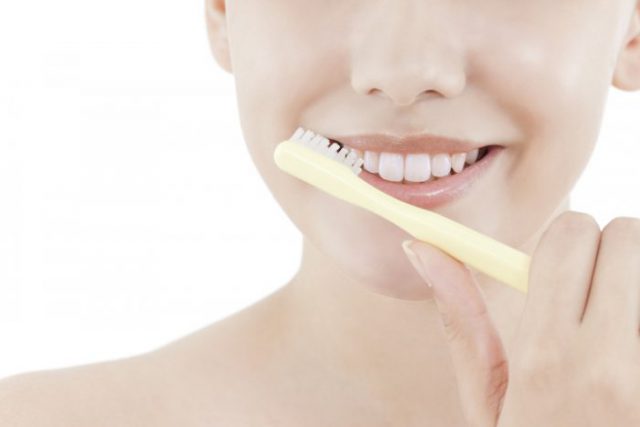 Exposure may be carried out using special tumblers. They can be purchased at specialty shops or ordered online. When the action is made, It needs to moisturize the skin. Possible to use vegetable oil or cream. The application of funds is made with a cotton disk. It must be clean.
Home balm
Lip Care winter involves the use of balsams. From masks they differ in the ability to use throughout the day. The basis of the home acts as beeswax balm. It should be natural. In addition, used vegetable oil. The wax acts as a basis, which made other components. It allows you to create a protective film, preventing negative environmental effects. Vegetable oil and other components can achieve therapeutic effects. All domestic balms are prepared according to the same scheme:
The wax is melted in a water bath. must, means reached to liquid consistency.
The other components of the tool are made. The substances are mixed together.
The resulting mass is poured into containers and allowed to cool.
Domestic balm ready for use. It must be stored in a cool dark place. If a woman wants to get the facility of a thick consistency, the amount of wax in the composition increases. If there is a need for a soft cosmetic product, It decreases the amount of wax. To achieve a similar effect you can add more vegetable oil.
If in need of care inflamed or chapped lips, you can prepare healing balm. He helps relieve inflammation. The composition of agents include oil:
coconut;
sea ​​buckthorn;
shea;
cocoa.
Additionally required broth chamomile, Vaseline and beeswax. Each ingredient taken one teaspoon. Exceptions are beeswax and broth chamomile. These products need one tablespoon. Instead of cocoa butter can be added almond or olive. Vaseline to use as part of the means is not necessarily. The cooking process is different complexity. Beeswax melted in a water bath. Then, the weight imposed cocoa butter, coconut, Vaseline and other oil. Then add broth chamomile. The components are thoroughly mixed. Thereafter the mass is removed from the water bath. As long as the composition does not harden, you can pour it into containers. Better to use a glass bowl.
When the tool has cooled, it will become thick. Such balm may be stored for 3-4 cooler months. Important, that the container has been closed. To achieve the positive effect it is recommended to apply balm 2-3 times a day. A positive result is visible after 2-3 day. Possible to use for the prevention. It is able to replace chapstick or used as a base for makeup. Do not confuse the appearance of herpes and chapping. The appearance of severe itching, bubbles or small bleeding abscesses shows the disease development. In this case, we use special medicated ointment. They can be purchased at the pharmacy. The sooner the process will be carried out, all the better.
lip protection
Care of the lips should include their protection. This area has a tendency to be early signs of aging. You may experience facial wrinkles. Lips are the most active area of ​​a human face. It is exposed to ultraviolet rays. Therefore, it is important to correctly select the lipstick and balm for the care area. It should contain sun protection factor SPF. Indicator value should not be below 15. The risk of early wrinkling increases smoking.
To rejuvenate the skin used almond, coconut and olive oil. Beauty vitamin is considered vitamin E. It can be purchased at any pharmacy, where he sold in liquid form in ampoules. You can add funds to the face cream. He is suitable for power.
What to do when chapping?
If the lips are weather-beaten, you can not leave it unattended. To get rid of cracks and peeling can be made special massage. The process is performed using a toothbrush. Exposure is carried out for 2-3 minutes. Then will use the honey. Add additional components do not need to. Means must be left to the 5-10 minutes. Substance moisturizes lips, It gives them a velvety texture and tenderness. The material is then washed off with warm water,. FIELD wiped with a towel. Then will saturate the lips with moisture. For this purpose balm.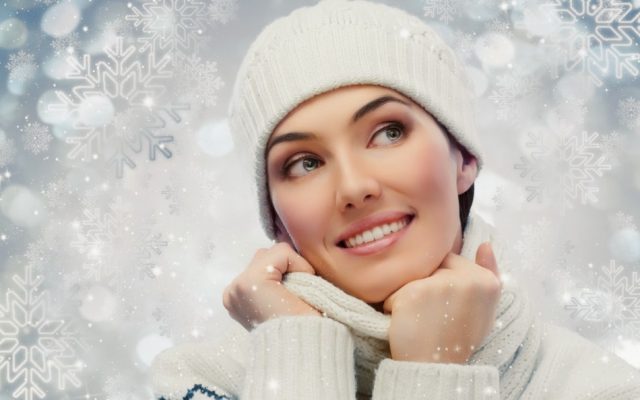 additional tips
Care of the lips should include daily lubrication of the night a special cosmetic cream, which includes vitamins A and E. Three or four times a week should use a mixture of cheese and carrot juice. It is applied to the lips 10-15 minutes. If severe inflammation is present, it is recommended to use a compress. It is prepared from a decoction of chamomile flowers. He must be strong. The fluid wetted cotton swab. After this means is applied to inflamed skin. It is necessary to keep him on the field 10-15 minutes. Producing a make-up removal, you need to remember about the lips. The process is carried out using milk.
It is necessary to regularly use protective balm. It should be applied all year round. Selection of funds required to carry out depending on the season. In summer, balm should be present and sunscreen moisturizing ingredients. Winter means should provide protection from cold exposure. In order to give the area a bright color, You can use a mixture of rice flour and olive oil. Take a teaspoon of each substance. The result is a kind of gruel. It is applied to 20 minutes.
Then it is washed off using a wet swab. After the procedure is recommended to lubricate the area with a thin layer of honey. If a woman wants, to lips were soft and tender, It needs to pound ripe strawberries and mix it with honey. The oil used to lubricate the lips. The mixture should be left on the field to 20 minutes. Then simply allowed to eat or wash away. Treated area is smeared with fat cream.