Makeup allows a woman to enhance the beauty and hide flaws. Today there are many options for the application of cosmetics. However, not all are suitable for every woman. It is important to correctly choose makeup. Into account the need to make individual features of appearance.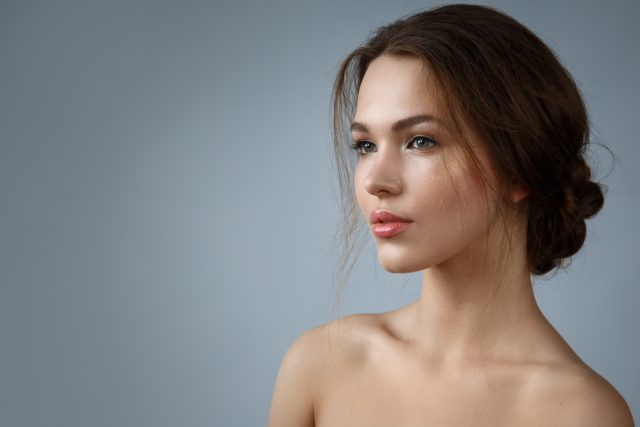 how to understand, What makeup is suitable?
Makeup was created, to emphasize the strengths and hide flaws. Initially, should decide, what woman wants to emphasize with makeup is to emphasize the large eyes or to highlight the sensual lips. You need to take into account the character of the exterior and learn the best tips top professional stylists. Should be considered:
hair color;
skin tone;
eyebrow shape;
kind of oval face.
From the above list of parameters depends on affordable makeup techniques. Eye Color and shape should also be taken into account. Most pencils and other cosmetic products are not universal. The exception to the rule is black and brown eyeliner pencil.
Individual features of the exterior of an impact on the selection of makeup. So, the presence of drooping eyelids is required to take into account. Experts advise not to lose sight of other nuances. chiseled cheekbones, rounded cheeks, low brow, wide bridge of the nose or hump on the nose with the right approach can be a highlight, which do not affect a woman, and make it unique.
Components Makeup
Razbirayasy, how to choose the right makeup, We need to remember, that it consists of several parts. The basis of selection of make-up performs tone. It is a foundation for the subsequent application of cosmetic products. experts believe, competent selection that represents half tone success when applying makeup. The face will look a winner, even if the makeup on the eyes and lips will be applied correctly, or does the area ignored.
The second part of the make-up of competent advocates relief. Experts call process of applying "sculpting". Today, the action received high popularity due to the spread of information through social networks.
A third aspect of literacy advocates the application of cosmetics eye makeup. Its coating should be carried out taking into account the shapes, planting and size of the eye. If a woman does not know, how work competently with the above components, better to limit ink and shadows. In this case, apply too much makeup is not recommended.
The fourth stage acts makeup eyebrows. They determine the perception of the person as a whole. It is recommended to stick to the natural line. If staining is performed, must be performed in compliance with its basic rules.
The last thing is done applying cosmetics on her lips. It is necessary to highlight their contour, choose the right tone and use glitter.
Fundamental rules
Deciding to choose makeup online photo, a woman should observe a number of rules for its application. So, it is imperative to use the base or foundation. The procedure is performed using the fingertips. Cosmetics are applied to the upper and lower eyelids. Apply shadows and resort to other varieties of cosmetics is possible only through 15 minutes. The base layer will keep the outcome for longer. All lines will smooth. Cosmetics does not flow.
The human skin is a combination of several shades. Therefore, if you use only one tone, a person can become like a mask. To avoid this, you must use a minimum 4 different shades. Their application shall be in accordance with the established rules.
Arrows is one of the main elements of the make-up. With their help, will be able to emphasize or correct the shape of the eyes.
Summarizing the lower eyelid, better to prefer a light pencil. Alternative performs color shading shadows under the brow line. This will allow visually increase the size of the eye.
If a woman wants to make eyelashes longer and bulkier visually, must use ink. As a result, it is able to achieve the effect of the doll look. experts believe, it gives an opportunity to attract the attention of men, and to be the center of attention.
selection principles
Deciding to choose makeup?, necessary to define the color palette. Experts conventionally divided all women 4 type – spring, summer, Fall and Winter. Depending on the type of color change, which is recommended.
Spring
Women are spring type, if it has light eyelashes, eyebrows and hair. At the same skin color should be dark-skinned or golden. Typically, this type of women have full and vibrant lips, is present on the cheeks blush. He was particularly noticeable at a young age. Lips has a soft peach shade. May be present freckles. The eyes do not have overflows, but clear. they usually:
blue;
blue;
yellow;
olive.
The use of cosmetics should be aimed at emphasizing the natural beauty. It is not necessary to try to correct the facial features. When choosing colors, it is recommended to give preference to yellow shades. rule applies, If selects rouge, lipstick or shadows. If you use cold dark colors or shades of lemon, cosmetics can damage your face. It makes the skin is much paler.
Summer
Type the summer is very common in Europe. These include representatives of the fair sex with any hair color. The only exceptions are burning brunette. However, the hair of women, the summer did not have a golden hue. Usually representatives of this category have light eyelashes and eyebrows. The golden color is also missing. In women, this type has pale white skin. If there is pigmentation, it light. The eyes are usually gray or steel.
Representatives of this category are not particularly limited in the choice of. They are suitable for cool colors. This may include the following options shadows:
beige;
blue;
purple;
gray;
pink.
When applied shadows need to shade. You can use the dairy shades. Emphasis must be placed on only one side of the face. If you use bright shade, you need to give preference to neutral lipstick natural color. When applied to the lips bright colors, shade should be a light beige.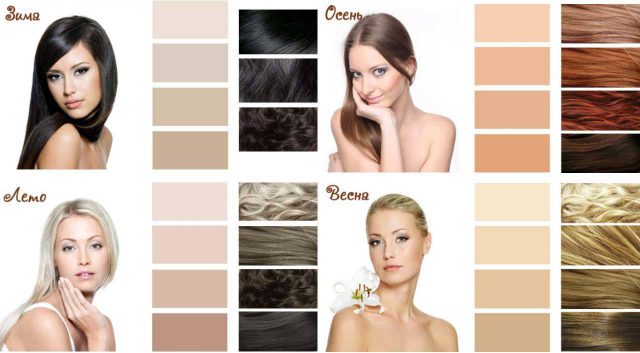 Autumn
type autumn women also do not have problems in the selection of makeup. Speaking of the fair sex, relating to this type of, experts characterize their word expression. It is the owner of the bright hair, color ranging from red to dark brown. Eyebrows and eyelashes are the same color as the hair. type fall Women have a saturated color lip. They even skin tone. blush missing. Color ranges from golden to dark-skinned and milky white. Eye color can be any.
Producing a selection of make-up, must be used with caution in pearly shades. In the category of dangerous falls and purple. all dull, matte shades suitable for women of this type. Creating eye makeup, it is recommended to give preference warm tones. Blush should only designate cheekbones. Therefore it is necessary to give preference to light, neutral tones. Lipstick and clothing should be in harmony with each other. You can give preference to color leafless foliage, slivovomu and ezhevichnomu.
Winter
Most modern women are winter type. Representatives of other categories can easily choose makeup. Permission is granted to use any saturated bright colors. However, the classical option remain brown and gray. A woman can experiment with glitter. However, this category does not fit all shades of yellow.
Type of winter is divided into North and South. Representatives of the first category has a dark skin, black eyebrows and eyelashes. They are easy to sunbathe until dark shades. lip contour clearly delineated. Representatives of the northern type have light skin. They have a pale pink lips. There is a light pale blush and freckles. During applying makeup representatives of both categories can use identical colors. However, women, falling within the category severyanok, may give preference to style, which is suitable to representatives of the category summer.
Preparation for the application of cosmetics
dismantled, how to choose the right makeup for your appearance, you are ready to spray. However, prior to this skin must first prepare. First apply foundation. Many women forget about the need to even out skin tone and color, and give it a matte finish. To achieve a positive effect allows the use of a basis for make-up. To do this, apply a special cream-corrector, cream powder or liquid foundation. Professionals applied foundation with a special sponge. However, if a woman does not have the appropriate skills, cosmetics can be divided by hand. In this case, it is necessary to move from top to bottom.
Then will use a proofreader. Alternative acts clarifier. With its help it is possible to hide small wrinkles and under-eye circles. Then used blusher or bronzer. Cosmetic products are required to correct facial lines. So, if a woman has a square or round face type, need to produce shading triangle rouge. It means, it is necessary to move from the temples to the corners of the lips. Change the appearance of a triangular face and give it an oval shape will be able to, if you do the application of rouge from temple to temple. It must be remembered, that light colors emphasize, and the dark to hide. As a result, it is able to correct the deficiencies.
Top the best tips on eye makeup
Deciding to choose makeup?, it is important to pay attention to the eyes. Most women prefer to focus on them. Applying cosmetics, should strive, that the eyes were large and expressive. Admission varies according to the individual characteristics of women. So, if it has:
Medium-sized oval eyes, You can use the arrow keys. They will make more elongated slit. Will look more interesting, acquire flavor. If you put a dark shadow on the inner corners and place the light on the inside of the band, the area will become larger. producing feather, care must be. Brush should move from the inner corner to the outer. If you place a light tone on the inner corner, it will visually arrange the eyes wider.
bulging eyes, it is recommended to give preference when applying makeup dark tones.
Almond-shaped eyes, it is recommended to give preference to lighter shades shadows. Dark shadows are also used. However, they are applied only on the corner of the eye, closest to the temples. Additionally required pearlescent shade. They are applied to the inner part of the eye, as applied under the eyebrows. This makes the eyes more.
Round eyes heavy-lidded, you must pay special attention to application shooter. They require a certain skill. It is necessary to draw the arrow a little longer, than lash line. This would make the almond-shaped eyes.
Having appearance, who liked, necessary to fix it with a photo. Subsequently, it is necessary to focus on the result. Selection of colors is carried out with an emphasis on color and style of clothing, all possible lighting. Makeup should emphasize the natural beauty.
for blue
Deciding to choose makeup?, you need to remember about the eye color. Typically, the owner of the blue hue are women, with fair skin and light brown hair. Experts advise to give preference to lighter tones of makeup. They should be warm. Fit blond shades of beige, Color Champagne, milky white and other colors, the corresponding rule. Cosmetics allows us to give your eyes depth. With this type of appearance should give preference to lighter shades of brown or purple, Marsh and gold.
Blue eyes can be several shades. The most common acts of gray-blue. Shadows should be combined with the eyes. Therefore it is necessary to choose the appropriate color from the gray scale. Such shadows accentuate bright eyes. If you choose a bright or dark, Iris will appear pale circle and lost.
If you have brown hair blue eyes, should give preference to a more saturated Style. It is recommended to focus on the selected clothes. Such a woman will suit all shades of brown. Exceptions are much lighter tone. Advantageous to look as bronze, silver, dark blue and dark green color.
for brown
Usually, women with brown eyes have dark hair and dark skin. As a result, eyebrows and eyelashes become highly visible. This eliminates the need to allocate these areas with the help of make-up. This feature simplifies the process of applying. Razbirayasy, How to choose makeup colors, You need to rely on selected clothes. There is a set of colors, suitable brown-eyed women more, than anyone else. This brown, dark beige, shades of purple and blue. you can experiment. Brown-eyed well-suited style Smokey Eyes. You can make a mix of blue or plum tones. Makeup advantageous to accentuate eyes. He is suitable for a party or an important event. This option is only relevant for an evening out.
For casual style recommended way to nude. He will approach owners of brunettes and light-brown hair. creating makeup, We need to use the brand of foundation and powder. Selection is carried out in accordance with the color of the skin. Do not get too carried away. Sufficient to apply one or two layers.
for gray
Professional makeup artists love gray-eyed girls. Usually they serve as models. This is due to the versatility of color. With it goes almost every palette. As a result, the girl can choose makeup, relying only on his future image or mood.
Encounter minor problems only gray-eyed blonde in the selection can. To emphasize the eyes and give them a greater expressiveness, necessary to give priority to the shadows, which will be a couple of expressive eye colors. If we break the rule and to give preference to the shadows, that match the color of eyes, They lost against the background of the rest of the make-up and will seem too bleak.
for green
Among the famous green color is considered the most rare. Therefore, women with eyes called unique. When choosing makeup, It is necessary to emphasize the feature. However, it is recommended to give up the experiment. It is important not to cross the line between beautiful and repulsive. A woman with green eyes advantageous looks palette, matched by eye color. Gray tint to them also suitable. If you plan a bolder image, You may prefer chestnut, golden or chocolate color.
But the violet, sapphire, blue-violet shades are banned. Refuse recommended and darkest shades of lipstick from. If a woman is the owner of the mixed color of eyes, You can give preference to all colors, harmony with these shades.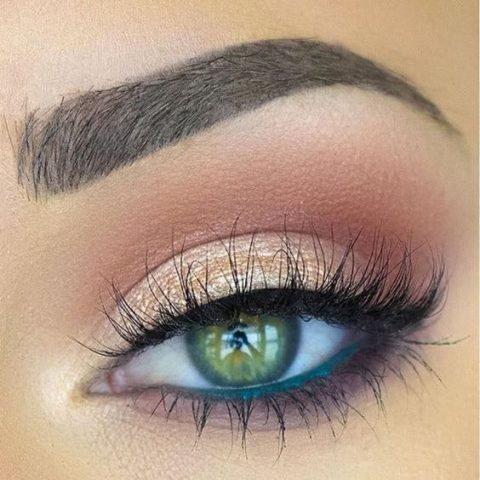 Selection of make-up, depending on the clothes
Razbirayasy, What makeup to pick up, must take into account clothes. Black color emphasizes the skin. Sometimes he is able to give it a bluish tinge. Therefore, in the make-up should give preference to the warm shades. The exception is the lipstick. With black clothing cosmetic advantageous looks bright colors. May prefer:
red;
carrot and orange;
Fuchsia;
coral.
Use shades of wine is not recommended. In combination with black may be too romantic image. If the lips are allocated, it is not necessary to emphasize the eyes. It is recommended to focus on one thing. However, this does not impose a ban on the use of certain cosmetics, except mascara. In this situation, your eyes may just get lost. They draw the outline recommended using a soft pencil black, brown or gray. It is necessary to try to achieve a haze effect. Instead, it is recommended to give preference to blush bronzer. An alternative to the use of natural stands of peach shades.
Choosing clothes of bright colors, should give preference to the simple natural makeup. Experts do not recommend to use in clothing more 3 colors. Carefully worth working with a range of shades.
The most insidious color is white. With caution should wear metallic colors. They are full of women. If these colors are used in makeup, It requires some skill to combine them. Typically, color is applied locally. If the white dress is not a wedding, You need to diversify the way of accessories. Color Makeup should be combined with them, but not with the dress.
Beige is the so-called base color. If clothing is dominated by warm colors, makeup should be appropriately. When choosing cold colors, necessary to dilute makeup gray, blue, pearly. With the combination of beige and purple hues. It looks favorably brown, carrot, mustard and honey range.
Choice depending on the type of person
To choose makeup?, women should pay attention to your face shape. Depending on which is carried out konturing and sculpting. The following basic types of face:
triangular. To hide the shortcomings and emphasize the merits need to perform dimming forehead. Dark tone superimposed on the upper part. Additionally, it is applied to the cheekbones. The proportions of the triangular face should be balanced. To this end, experts recommend to allocate lip.
square. Makeup should be aimed at smoothing the edges. When choosing foundation, must take into account skin tone. They must meet. Suitable as a means of, which one tone darker than the main color of skin. The second cosmetic agent needed to impose on the acute angles of the mandible. It will darken them and will remove visual acuity. Required dark rouge. They are applied in the form of a triangle.
oval. Produce a special adjustment required. Experts recommend to emphasize cheekbones. Thus it is necessary to use a single tone for the whole face. Additionally, you can apply blush.
round. We must strive to extend it. This will require the obscure side of the. Dark blush applied on the jaw line. Cosmetic means necessary shade. Actions carried out towards the corners of the lips.
Top the best advice on the selection of cosmetics
So that the image looks good in general, it is important to pay attention to each part, and to consider the best advice of professional stylists. It requires a careful selection of every cosmetic product. dismantled, how to choose the right makeup for your appearance, woman can advantageously introduce myself.
lipstick
clear rules, regarding the selection of a suitable lipstick, There are no. Today there is no fashion for a particular color cosmetic products. The trend, they all. Therefore it is necessary to carry out the selection of lipstick, that there is a woman. Shade should match tsvetotipu. Additionally, it should be in harmony with the image as a whole and the selected color blush. We are taking into account not only the selected items, but the overall situation. If you wear a red dress, intended to visit the daily events, and to give preference to a scarlet lipstick, the image will look vulgar. However, as a night image appearance suitable.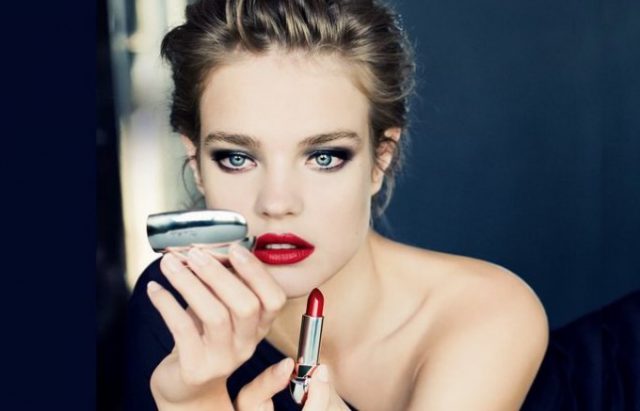 color blush
Deciding to choose makeup and choosing the right color blush, you must pay attention to the natural hair and skin tone. If the skin is bright, should give preference to the cool shades. Winning will look pink. If there is a tan, to harmonize with it will be a darker tone. It is worth to buy coral blush or color cosmetic copper. If a woman is blonde, should give preference apricot lipstick.
Coral blush and look a winner. A similar rule applies to brunettes, But the owner of Light Brown or brown hair should choose brown blush or color cosmetic rust. Owners of red hair is recommended to give preference to the orange or yellow shades. There are universal tone. So, almost all are blush beige and pink shades.
Cream and powder
Modern manufacturers shall release the same color in the foundation 2 shades of beige and pink. women, having pinkish porcelain skin, referred to as cold tsvetotipu. Facilities, them suitable, should contain more reddish pigments. If the girl's face has a warm yellowish-brown tint, should choose a cream with a golden-brown tint. If a woman wants to look younger appearance, should give preference cream slightly paler, than the main type of skin. especially true after Rule 35 years old. Carrying shade selection, It recommended to apply directly onto the skin of the neck. Typically, the cream was tested, applying to the skin of the hand. Test execution will not benefit. Here, the skin may be lighter or darker than the face.
Producing a selection of powder, Do not immediately choose the most bright or transparent means. Warm shades can revive the complexion. Experts advise to buy 2 Tint, with similar colors. Lighter cream is recommended for use in the winter time, the second is used in the summer. During this period, the skin tans when exposed to ultraviolet rays. perhaps the use of 2 shades soon. This will allow for modeling and correction of facial features. And the darker shade applied on the wings of the nose and the contour, and a light is placed on the cheeks, bridge of the nose, in the middle of the forehead and chin. Do not apply concealer on the upper eyelid. The composition of the cosmetic product is not adapted for use in this zone. The result may cause irritation.
a new generation of creams have modernized composition. It contains pieces of prismatic, polygonal or oval. They are in a special trap, redirect and scatter the light. As a result, the skin, as it were illuminated from within. It has a softening effect on the facial features. As a result, make-up becomes homogeneous and unobtrusive. Relief later emphasized.
Top additional tips
Razbirayasy, how to pick up cosmetics makeup, it is important to take into account the individual characteristics of. So, if women are present freckles, it is not necessary to give preference to the shadows, lipstick and blush brown shades. Such tone together with freckles will appear dirty. Foundations should be light. It is necessary to apply them transparent layer. Choosing eye shadow, should give preference to a blue or green tint.
If a woman wants to enhance the beauty of fair skin, It needs a transparent foundation. It must be applied evenly. To achieve a similar effect, it is recommended to use a cosmetic sponge. Color shades should be in harmony with the iris. As a result, the risk of error in the selection of cosmetics is minimized. They allow you to emphasize the eyes and skin color. You can also experiment. However, if you prefer not to those colors, there is a risk to get an unexpected effect.