The interview is a mandatory part of the job search process. After sending resume can get an invitation to a conversation with an employee of the personnel department. However, to have an interview can not please everyone. The implementation process will prepare.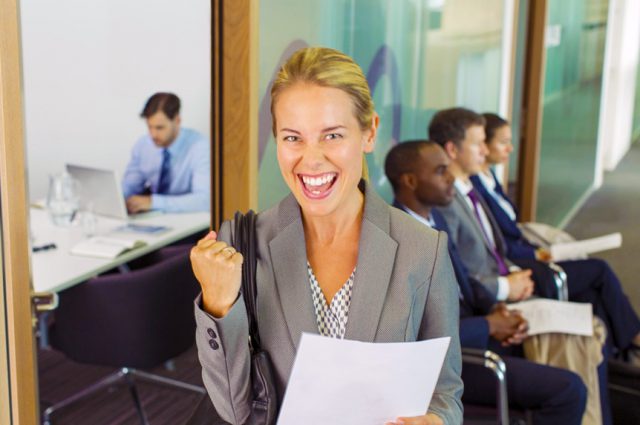 Mindset for Success
Successfully be interviewed without the right attitude can not be. It should see it as a negotiating, rather than exam. No need to succumb to provocations companies, who presented the interview as a contest. They are trying to raise the bar, talking about the hard selection. This is done, to offer the least lucrative contract in view of the large demand for vacancy. a feeling, that at lower wage, than expected, the ability of employees will be happy to receive work, because it was a difficult choice at highly competitive.
It should be understood, the interview is not only viewing a possible employee. The candidate is also considering, recognizes the company. Find a good employee is not easy. It is not necessary to belittle its merits, succumbing to provocation. It is necessary to properly assess the opportunities and offers from. If they are not satisfied, despite the greater competition it is not necessary to agree. The interview should be looking for mutually beneficial conditions.
Basically, this method is used by large multinational companies. They play on the, they have excellent prospects and good working conditions. However, not only do they sin such schemes. many companies, trying to increase its prestige, constantly talk about the difficult selection. It is not necessary to believe. It is necessary to know his own worth, otherwise find suitable and mutually beneficial work will be hard.
Self-confidence
It is worth remembering, that is worthy of any corresponding wage. It should reflect the experience, the productivity and success of the employee. Received the money should be enough room. If a company offers understated wages without any explanation, for such is not necessary to agree. Especially if the work involves a full-time. If it is possible, haggle and try to get a better deal. You should not settle such tactics, because in the end you can never get a seat.
During the interview, you can not behave too arrogant, too revealing its significance. It only alienate the interviewer. The salary should fully comply with the skills, achievements and employee performance. to successfully be interviewed, you must know his own worth, however, not to exaggerate and not to overestimate. Must be set correctly, without diminishing self-esteem. Then the personnel department employee will see a potential employee's personality. This will not only successfully apply for a job in the company, but also to establish itself.
Summary and appearance
Once selected the right mood, you need to start preparing. The first thing written resume. It is necessary to specify all of your data, training places, place of work, hobbies, as well contacts. personnel department employee will ask about recommendations. They will need to provide. It is worth pointing people contacts, who wrote recommendations. If these descriptions are not from the chief, You may be asked to draw up such a document customers or partners. Reference list must be ready by the time of the interview.

You need to look appropriately. Appearance plays a big role. Should choose neutral shades office clothes. This is not necessarily a formal suit, as the need to carefully enter the dress code branch. Shoes must be clean.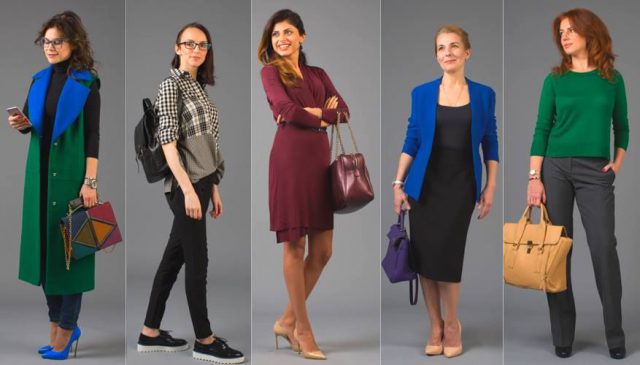 information about the company and job interview
before, you go for an interview, necessary to carry out a little investigation. You need to find out about everything. This will show, that the potential employee is really interesting and the organization of work in it. Owning information is successfully pass the interview. Knowledge will be particularly useful in matters of, why the candidate wants to work in this company. to successfully be interviewed, you need to know:
He works with the interviewer. It can be a leader or an ordinary employee of the personnel department, chief, director.

interview format. They can be group, individual, presentation or in the form of an interview.

Dress code and necessary things. It may be some documents, Gadgets, portfolio.

Location and how to reach it. Being late for an interview is not valid. This significantly lowers the chance to get a job.
Interviews are often the same type. However, there are also unique. It can be very stressful job interview with shouts, when trying to look at a man under pressure. There are also those, when a person is placed in a certain situation and watch, he will solve it. Not always possible to know, a job interview will, however, any of the types of questions are asked.

A good option is to make a card with the answers to the most frequently asked questions about:
the main advantage;

positive traits;

self-development strategy;

proposals to improve the company's performance;

goals;

unusual situations, of which it has been found out;

Topics for discussion with the personnel officer.
After a preliminary examination of the company, you can create a portrait of the alleged employer. This will help to prepare for an interview, taking into account the specifics of the company.

For a successful interview should check the following items:
the availability of all possible information about the organization;

availability of all documents, printed summary, certificates and portfolio;

approval of recommendations and the availability of contact may;

knowledge of the location and transport options;

the availability of sufficient time for interviews;

proper dress code;

clear answers to the most frequently asked questions;

Preparation for the salary discussion;

the existence of questions to the prospective employer.
Getting rid of stress and anxiety
In an interview to be sure to come. It is easier to win a possible employer. It should be calm, measured. However, during the interview, many people experience a lot of stress. To stop being nervous, It is necessary to stabilize the breath in the first place. To do this, take deep breaths. Before the interview, you can meditate, it will help to calm down and come to the negotiating imperturbable.
Anxiety can negatively affect the chances. HR podumaet, that the person is mentally unstable. It can be absolutely incompatible upcoming work. therefore, even if the nerves to the limit, We need to portray serenity, not to show the state of stress.
to successfully be interviewed, in advance, consider the body language. Excitement, many people behave differently, but it is always visible. If a man knocks on the table with his fingers, worth all the time to keep in the hands of the pen. HR employees are well aware of human anxiety. However, the naturalness in communication will help position them to himself and to reduce the tension of the situation.
the right atmosphere
In addition to the clarity and confidence in speech, you need to look into the eyes of the personnel officer. Do not make it hard, otherwise the manager can be put in an awkward position. Look sometimes take, but you can not always keep it lowered. If you look directly into his interlocutor's eyes it is not comfortable, you can look at a point on the forehead or around the ear. Successfully be interviewed help good manners. On arrival at the office, you must be polite and patient. All papers, who offer, You need to complete in good faith. At the beginning of negotiations to introduce themselves and ask about the name of the personnel. This will help to establish a pleasant atmosphere. questions, which are set, you need to listen attentively and do not interrupt. It is situated manager. When, if the question is not understood, specify. Answer must be brief and to the point. Too frank not worth, but can be as objective and sincere.

If you want to give a negative response itself, it is not necessary to deny the obvious facts. However, the need to maintain a balance with the positive information, carry oneself with dignity. If you impress unsuccessful person, it will reduce the chance of getting a place. It should demonstrate their professional skills, qualifications. Whenever possible, ask questions. First of all, it is worth wondering work, the terms of its implementation. We should not settle questions of wages. At the end of the interview to clarify, When it's a notice of the results, and then say goodbye for decency.
To interview started on a pleasant note, It must be easy to smile. Too big smile may seem alarming, but the lightness and softness of facial expressions to adjust only the personnel on the positive interview. If it is permissible, It can be diluted with a formal atmosphere cute story.
During the interview,
that be interviewed, should monitor the behavior. It is necessary to monitor the voice. He can give the most inopportune moment. voice is often lost or becomes squeaky, trembling. If the problem is known in advance, you need to train at home to prevent it. When, if fear is the cause, You can take a pill before interview.

A very important aspect is the pose and facial expressions. To give the impression of a confident and serious man, should put both feet on the floor, hands put on the table and straighten your back. The head should be straight, watch need right at him. You can not take a relaxed posture, raskidyvatsya on a chair or always something to touch and pull. This immediately gives concern. Moreover, so you can spoil something. This will significantly reduce the chances of getting a job.

The speech is necessary to monitor. It is necessary to withstand a break, especially if the person is nervous. This eliminates the need to insert awkward phrases. If the interviewer is silent, he can check, nervous about whether a potential employee in such a situation. It is necessary to steadfastly endure such moments.
Dialogue with the employer's representative
Dialogue is the most important factor, to successfully be interviewed. This process must not resemble an interrogation. It should be a lively and a bit laid-back dialogue. It is necessary to dilute the atmosphere with jokes or some stories from life. Managers like interviews take place every day, so the proportion of live communication they appreciate. However, do not overdo it and turn the formal talks in the conversation of two bosom friends.

If interviews are conducted directly to the future leader, This is particularly important. He needs to enjoy. It should comply with the above size, be too short, or vice versa verbose bad. Uncluttered short presentation about themselves can be diluted with stories from life, situations at work or school. It will be especially interesting to people older. Maintain a smile on his face and respond to the interviewer's jokes. However, it should be organic and measure must be observed.
When it comes to the story about yourself professionally, there is no need to talk about the positions responsibilities. These facts are known to the personnel officer. We need to show the importance of his own work at a previous company. It is better to present a short report in figures and statistics. You can list completed projects, their achievements in professional terms. Better start doing it from last place of work. So the experience will be the most relevant.

Listen carefully to what was said by the interviewer. Most people perceive as stressful a job interview, when the manager is trying to get them to the most detailed answer. If negligence of the candidate it can lead to unnecessary stress. It is necessary to be very careful, do not interrupt and be sure to ask again unclear issues. Answer clearly and main. So the interviewer will be able to ask interesting questions to him.
The ability to present yourself
The interview is comparable with the sale itself. HR employee is not obliged to pull information from a potential employee. Therefore, a preliminary analysis of needs. Focuses on achievements, that would be of interest to the head of the company. Even if they are not so realivantny, they should emphasize. This will make a potential employee more valuable, than other candidates.

To properly offer himself, you should follow these tips:
Presentation of himself. Some facts better not to mention, especially when it comes to his personal life. In no case should not discuss politics and religion. However, any information you present is beneficial for themselves. If a candidate for a long time there was no work, he can not say "was unemployed", and present it as a temporary lack of work activity. Even if the candidate's age large, it is possible to present, as a greater amount of time on career.

Questions and answers. It is not necessary to demonstrate dissatisfaction with the given issues. Never mind, on what would have to answer, do it with a positive attitude. It is important to facial expressions and intonation. This will help the employer see the candidate as a self-confident, open and willing to negotiate.

The first impression is very important. Once a candidate comes into the office, the interviewer immediately is your opinion about it. Further communication greatly depends on the positivity or negativity of the time. neobhodimo pozdorovatsya, smile, introduce yourself and ask a polite question from prospective employers.

communication Culture. In conversation it is important to consume mainly active verbs, such as I can, own. This will add confidence. You must get rid of the word-parasites. This shows lack of seriousness of the candidate. The personnel officer will be sure to follow the vocabulary and beauty of speech. It is necessary to completely eliminate from the speech Slang. You also need to get rid of the self-abasement. It is impossible to talk about the lack of experience, youth, shortcomings. conversely, to focus on the positive qualities.
it challenger
to successfully be interviewed, it must be competent and beautiful. It shows the education and erudition of a potential employee. For this you need to follow the advice:
Parasite words. Of turns of speech should be removed "in principle", "generally", "Probably" and so on. Answers must be specific, without unnecessary introductory words. Otherwise, they will show lack of confidence in your own answer. Especially false seen when using such. When a person is in something not sure and was going to lie, he is more likely to use such speed. Therefore, during the interview should limit their use, or removed altogether.

first say, and then think. This applies to such things, when a decision can not be taken in haste. The candidate may be asked about the future prospects and that, whether it is satisfied. However, people still can not give an answer. Therefore, we must make a thoughtful look, and then agree. Agree always immediately, when it requires further reflection. At the time of the interview no one asks a final decision. In a quiet environment, already being recruited, you can think about this question. maybe, the circumstances are not so bad, It seems like the beginning. However, it is always better, If the candidate is offered a place, and he thought then refused. If the right to say, that this is not an option, a chance to get a job much less. Therefore, we must first agree, and to consider in a more relaxed environment.

excess. You can not go into unnecessary details. All the above can be eventually used against the candidate himself. Therefore, the answers should be concise. There should be no unnecessary words. Especially it concerns the issues of direct future management, as it tries to find deeper candidate. It is necessary to constantly analyze your image, the, how it looks from the outside. So it is possible to determine, how certain factors affect perception. Say only what, that the hiring manager wants to hear. But do not withdraw into themselves, giving signs of uncertainty and stiffness. It will conclude in the human frame, of which he can not escape. Therefore it is necessary to engage in dialogue, but not to tell unnecessary details.

Lying. Do not get involved in lies and embellishment of the facts. But put yourself in a favorable light, keep silent about the unpleasant details, It is not shameful. maybe, then it will be calculated manager, but a small lie can increase the chance of successfully

be interviewed.
Answers on questions
Good preparation will be the answers to common questions. It is impossible to predict, that the hiring manager asks. The interview can ask any of the details of life professional and personal potential employee. You can make a list of questions, who often ask for an interview. to successfully be interviewed, must be able to answer such questions.

Tell about yourself. This is the most common question, which is set by the candidate. If you prepare for it in advance, It can be in a very favorable light to present themselves. The employer is looking for a man, that the experience and qualifications allow to perform a specific job. Also, it is important to desire the employee to participate directly in the success of the company. It is necessary to demonstrate an interest in the offered job.
Leader is looking for, who would feel responsible for the work, I obey the established discipline, adequately perceived criticism, He knew how to listen and understand explanations. Therefore, you should find out as much information about the company and to make itself profitable story. This should help to please the leadership. It is necessary in his story to focus on the desired position. Do not get involved with the details of his personal biography. The most important thing is to talk about work experience, knowledge and skills, required for job offers. When, if asked, Is the private life does not hurt, must be answered in the negative. Even if the working day irregular.

The presence of issues first. It is necessary to prepare in advance a few questions, that it is desirable to ask the personnel officer at the very beginning. It is better, if there will be three. They must be versatile, but do not just ask about salary.

The reason for the interest in the organization. The answer to this question it is necessary to give specific reasons. This may be a desire to work in their specialty, gain useful experience there, where you can get the most out, career opportunities. You can also mention the personal sympathy to the enterprise.

Receipt of other proposals. In this question you need to answer honestly. If there were, and then say. If the company is not the only, the chance to improve. That means, that the candidate is in demand. You can also say, if you were interviewing elsewhere.

What are the advantages and disadvantages.. These questions can be asked and separately. When asked about the positive qualities, it is first necessary to focus on those, which will be useful for a particular profession. If asked about the negative, you can not just be honest to answer this question. It should be beneficial to present themselves. It is better to shift the focus on the positive and compensating virtues.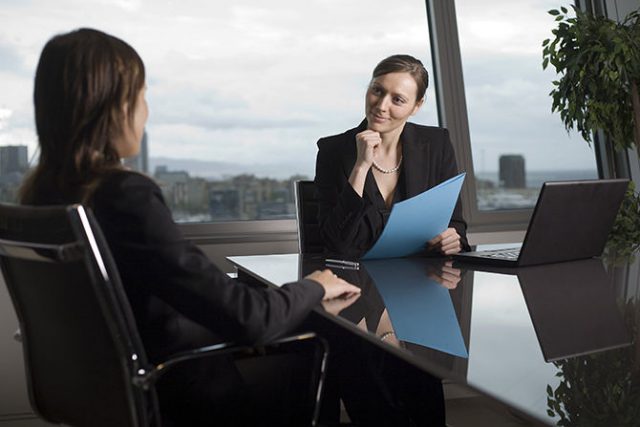 Why is this position and it is this employee. The answers to these questions must be correctly present and sell yourself. It is better to prepare a response in advance.

Why there was a departure from previous work. Better not to mention conflicts, even if their presence. You can not criticize the boss or employer of the former place. If the story of the conflict is inevitable, it is not necessary to go into details. explain, that this was an isolated incident. The circumstances were special. Emphasize the positive aspects of previous job. This may be the lessons learned, skills, communication.

Why is there a need to change jobs. The question will be asked to, who works during search. The best option would be to say, that that company is no more career opportunities. noting the fact that, that i do not want to stop there.

The situation in a few years. The question is often asked. It is better to tell the surface. mention may be made, that it would be preferable to work in the same organization, but at a higher position. This will show loyalty to the company.

At what salary goes calculation. At the beginning of the interview is better not to address the issue of wages. If he followed, to tell, that at this stage of labor remuneration is not important. If the hiring manager insists on an answer, better described as the most attractive sum, which would correspond to the experience and professional qualities. Not to overstate the bar, if a company is by definition not able to provide such payment, but do not underestimate.

Questions personnel officer at the end of. His set at the last stage of the interview. can not speak, that the questions asked. It is necessary to ask such, that it benefited. It is better to ask specifically about the post, that was not agreed personnel officer. Such questions is better to think in advance. Do not seek to ask about everything. Always worth to thank the employer for the information.

What changes are needed to improve the company. This question arises, If the vacancy is a high-level position. It is necessary to tell about such situations in the past work, ability to take initiative. However, it is better not to overdo it, otherwise the employer will begin to doubt the truthfulness of words. Do not propose changes, if there is no information on the specific situation of the organization.
For women
For the ladies there is a separate board. Questions about privacy illegally ask at the interview. However, some personnel officers this neglected. They ask questions about family planning and children. If a woman hints, that the issue of illegal, it is unlikely to get the post of. It would be better to say, that in the future plans for the family and children are. However, she had just finished college and plans to devote time to his career. It will not be considered cheating. The answer makes no warranties, however provides information on, that careers in priority. This response would be acceptable to a prospective employer.