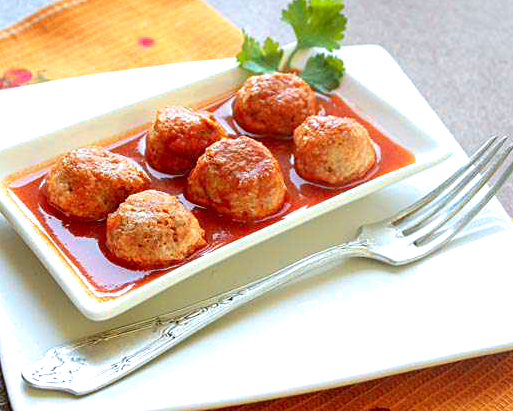 Meatballs - balls of minced meat, under different names they received well-deserved recognition in many nations of the world. Meat meatballs is very popular with children, who remember, that they loved the famous Carlson, because in Sweden, they are considered a national dish. In multivarka meatballs are obtained particularly tasty and easy to prepare, they can be baked, simmer in the sauce or steamed.
Meatballs in multivarka
To cook meatballs in multivarka, we will need:
Minced meat - 600 g (can be pig-beef), loaf of white - 100 g, milk, egg - 2 PC., tomatoes - 1 PC., tomato juice - 0,6 l, bow - 1-2 PC., greenery, garlic, salt, spices - to taste, vegetable oil.
How to cook meatballs in multivarka?
1. Soak in a small amount of milk a loaf without crust.
2. onions clean, chop finely and fry in multivarka on mode "Baking / Roasting".
3. Stuffing mix with eggs and minced bread, add the fried onions, salt and spices, mashed garlic, Stir well and to cut meatballs.
4. Put the meatballs in a bowl Multivarki, Add tomato juice, salted, It can optionally be, mix it with sour cream, sprinkle with herbs, put slices of chopped tomatoes.
5. multivarku set in the "Quenching" mode 1 time.
6. Serve the meatballs with sauce, mashed potatoes, rice, pasta, any side dish to the discretion of.
Cooking Tips:
The meatballs can be added fried, and raw onions.
Add to meatballs and cereals, vegetables, cheese, which can significantly vary the menu.
How to cook meatballs in multivarka recipe videos: