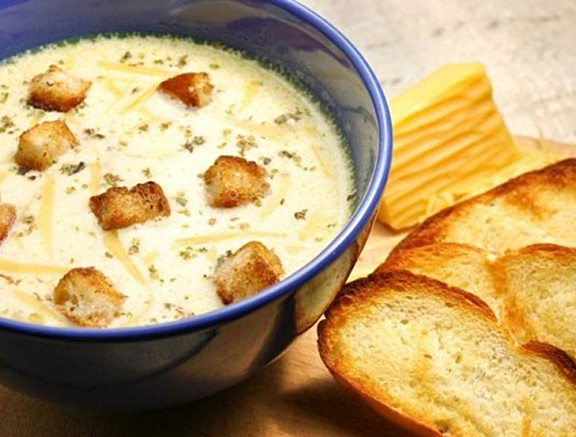 This soup combines a lot of useful components - chicken, cheese, and vegetables. Enough light and low-calorie, he comes to diet. Prepared without zazharki, which it is also a big plus, because not only useful, but also saves time. And its smooth taste and aroma of the cheese makes this simple dish a real treat, especially for cheese lovers.
Cheese soup with chicken in multivarka
To cook cheese soup with chicken in multivarka we need:
400 g Cream Cheese, chicken breasts - 300 g, bow - 1 PC., carrot - 1 PC., potatoes - 2-3 PC., salt, pepper, garlic to taste, parsley or dill.
How to cook the cheese soup in multivarka?
1. Clean, my and medium-sized chopped onion, potatoes and carrots.
2. Cheese cut into fairly small cubes.
3. My chicken and cut into cubes.
4. In the bowl of onions spread Multivarki, carrot, chicken meat, salt and spices, pour hot water. Multivarku set mode "Soup" on 1 time. Cheese cubes for laying 10 minutes before the end of the program. If necessary,, leave soup on heating, the cheese is well melted.
5. Pour the soup into bowls and sprinkle with dill or parsley. By serving soup croutons, sprinkle with grated cheese durum.
How to cook cheese soup with chicken in multivarka recipe videos: