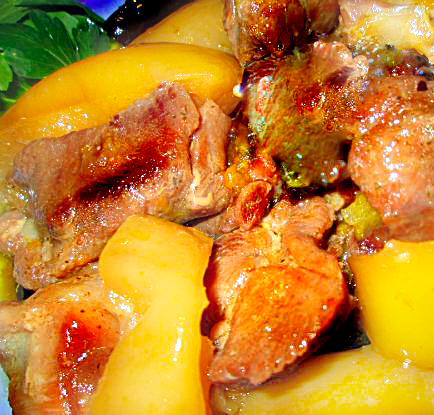 Lean pork or chicken or turkey in this dish perfectly with sour apples, and soy sauce. Many recipes for meat, Try this very simple recipe for Multivarki, even those, with whom she had recently, It will be easy to master the simple preparation technology.
Pork with apples in multivarka
To cook pork with apples in multivarka, we will need:
pork or chicken fillets - 0,8 kg, bow - 2-3 PC., sour apples - 3 PC., soy sauce - 5 Article. l., garlic - 4 cloves, vegetable oil - 2 Article. spoons, sugar - 1 Article. l., Bay leaf, salt, pepper to taste.
How to cook pork with apples in multivarka?
1. Rinse the meat and cut into small cubes, add chopped onion half-rings, finely chopped garlic slices, pour soy sauce, vegetable oil, sprinkle with sugar, salt and pepper (consider, soy sauce is salty, not too salty dish). Set aside for a while (from 30 minutes to days) in a cool place, to meat marinated.
2. cut the apples, previously washed and peeled from seeds, on 8 Dolek.
3. Put the marinated meat in a bowl Multivarki, Spread on top of the apples, the oil can no longer be added.
4. Install "Baking" mode 60 minutes and cook until the end of the program.
During cooking, stir the contents once.