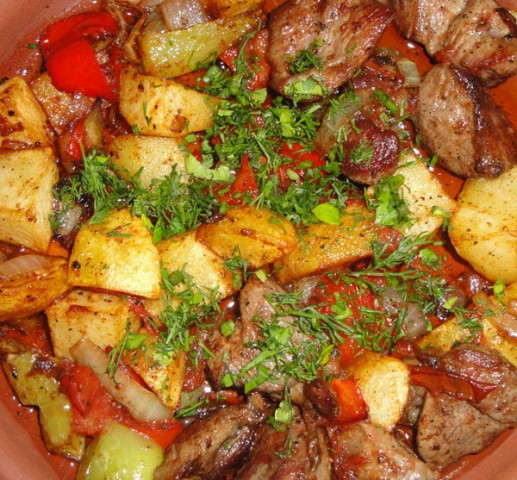 Many love the pork for good taste, and pork with vegetables and potatoes - an excellent idea for a dinner. Ginger, which is present in this recipe, give the dish a touch of oriental spice, multivarka and help keep all the nutrients of meat and vegetables.
Ragout of pork with vegetables in multivarka
To cook pork ragout with vegetables in multivarka, we will need:
400 g pork, 600 Mr. potato, bow, carrot, Bulgarian pepper – 2 PC., tomatoes - 3 PC., Ginger root - 5-10 g, salt, spice, greenery, vegetable oil.
How to cook the stew of pork with vegetables in multivarka?
1. rinse pork, dry and cut into cubes. Multivarka fry with onions mode "Baking / Roasting" until golden brown with the cover open.
2. vegetables clean, Wash and chop the middle-sized cubes. Ginger root value of a plum cleaned and finely cut.
3. All the vegetables and ginger in a bowl put Multivarki, add one multistakan water, salt and spices, mix.
4. Multivarku set mode "Putting out" on 1 time and continue to cook until the end of the program, when submitting sprinkle with herbs.
Cooking Tips:
Instead of ginger can add other spices to taste, eg, curry, garlic, hops-suneli.
Meat can not pre-fry.
How to cook the stew of pork with vegetables in multivarka recipe videos: