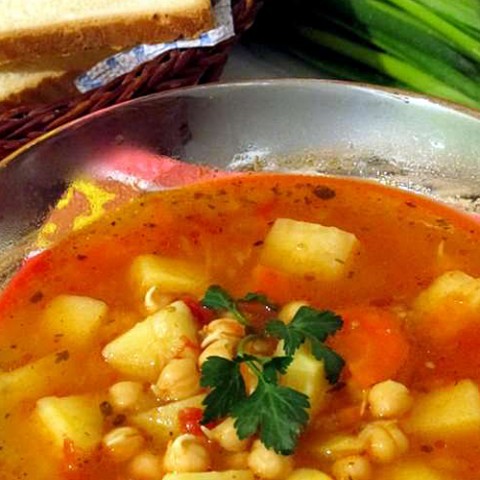 Nut or chickpeas belongs to the family of leguminous. The Nute much protein, folic acid and zinc, there is in him vitamins and minerals. The main feature - it has a low calorific value, so it is not seldom used in diets as an excellent source of amino acids and proteins. Chickpeas cooked dish popular hummus and falafel.
Soup with chickpeas vegetarian in multivarka
To prepare the soup with chickpeas lean in multivarka we need:
nut - 1 c., potatoes - 4-5 PC., carrot -2 PC., bow - 1-2 PC., tomatoes - 5 PC. (or tomato paste - 1-2 st.l.), frying oil - 2 st.l., parsley or cilantro, Zira - 1 ch.l., koriandr - 1 ch.l., garlic, salt, pepper - to taste.
How to cook the soup with chickpeas vegetarian in multivarka?
1. Chickpeas rinsed and soaked overnight, before cooking again rinsed in water. onions clean, wash and cut into cubes, my carrot, Clean and three on a grater or cut into strips.
2. Tomatoes are scalded with boiling water, remove skin and mash into a puree blender or use a grater. Potatoes prepare and cut into cubes.
3. In a bowl, pour the oil and set mode "Baking / Roasting", lightly fried onions, carrot, add tomatoes, Stir and fall asleep milled chickpeas and cumin and coriander.
4. Adding hot water potato and, to cover the potatoes, salt and pepper to taste.
5. install the program "Putting out" on 1,5-2 o'clock. Chickpeas cooked long enough, therefore periodically try it on after the first signal willingness, if necessary, increase the cooking time.
6. At the end of cooking add the chopped garlic and fresh herbs.