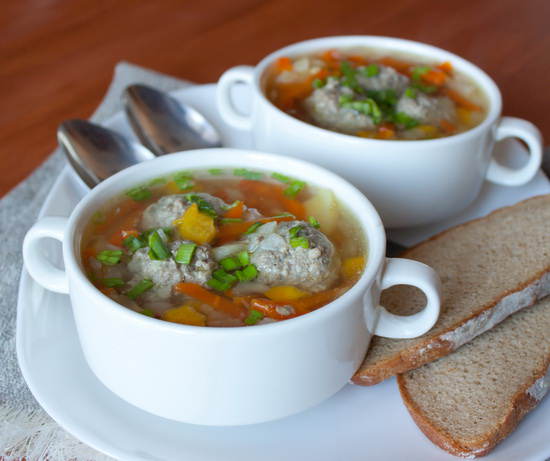 Soup with meatballs - very simple and satisfying dish. Delicate little meatballs of beef or chicken mince, useful vegetables, will satisfy even those, who does not like to eat for lunch the first course. A multivarka help make a simple soup is so delicious, that he will decorate any holiday dinner.
Soup with meatballs in multivarka
To prepare the soup with meatballs in multivarka, we will need:
Chicken or minced meat - 400 g, egg - 1 PC., Figure - 0,5 c., carrots and onions - for 1 PC., potatoes - 2 PC., greenery, salt, pepper, garlic, Lavrushka - to taste, vegetable oil, sour cream - to the table.
1. Carrot, bow, potatoes clean and cut.
2. rinse rice.
3. In the beef add the egg, salt and pepper, mix well. Molded from minced small meatballs, hands should be moistened with cold water, to minced meat will not stick.
4. Multivarku supply mode "Baking / Roasting", Pour the oil and lightly fry the carrots and onions. Fill hot water and wait until the water boils. disable mode.
5. Add the potatoes in a bowl, rice, put in a bowl of meatballs, salt, add spices. To install the program "Soup" or "Putting out" on 1 time.
6. submit, sprinkle with herbs, you can add sour cream, if desired.
Cooking Tips:
If you want you can add in soup tomatoes or tomato paste, parsley or celery, bell pepper, cabbage.
This soup can be prepared without rice, and it is possible with pasta, eg, with vermicelli, it is necessary to fall asleep for 5 minutes before the end of the program "Soup".
How to cook the soup with meatballs in multivarka recipe videos: