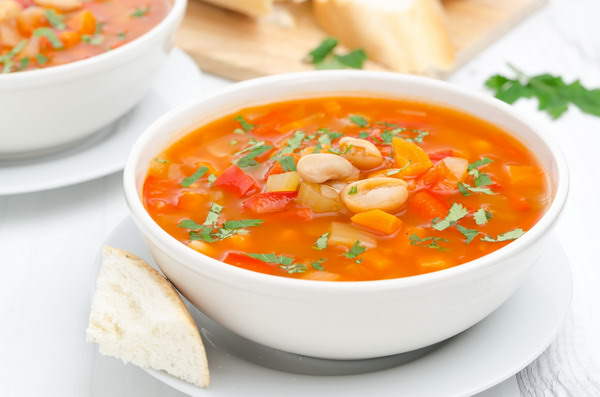 Beans may be mentioned vegetable meat, because it contains a large amount of vegetable protein and beneficial amino acids, many in it of calcium and magnesium. Before cooking should be soaked dry beans on 8-10 hours, so it will be easier to cook, and in addition, This destroys indigestible sugar, which impair digestion.
Soup with beans in multivarka
To prepare the soup with beans in need multivarka:
Bank of canned beans - 200 g, pork - 200 g, bow - 1-2 PC., potatoes 2-3 PC, carrot - 1 PC., tomatoes - 2-3 PC., Bulgarian pepper - 1 PC., greenery, spice, salt, vegetable oil, garlic, Bay leaf.
How to cook soup with beans in multivarka:
1. carrots wash, cleanse and rub on a grater or cut into cubes.
2. Bow, potatoes and peppers, cleanse, all my vegetables and herbs, cut into.
3. Tomatoes and my three on a grater or finely cut.
4. my meat, cut into cubes.
5. In Multivarki bowl pour the vegetable oil and "Baking" mode for 15-20 minutes fry onions, carrot, add the bell pepper, then tomatoes or tomato paste.
6. Put the meat in a bowl, potatoes, canned beans, spice, salt, mashed garlic, "Quenching / Soup" hot water and set the mode to 1,5 o'clock.
7. When serving sprinkle with herbs, serve sour cream.
Cooking Tips:
If desired,, the soup can add a little fresh cabbage, cut into strips.
If using dried beans, then after soaking it should be boiled until tender in another bowl, and then add to the soup, because it is cooked long enough.
Bean soup can be prepared as the chicken or mushroom broth. cm. "How to cook soup in a slow cooker?"
Delicious soup with beans in multivarka turns, if instead of meat to take smoked (ham, Ham et al.)
How to cook soup with beans in multivarka recipe videos: