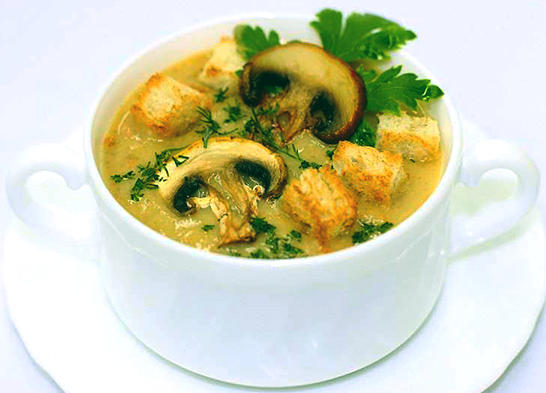 Delicate and creamy texture to these soups are very original and pleasant to the taste, Besides, soup turns out very hearty.
Mushroom soup - especially spicy, It has a distinctive mushroom flavor and unique aroma. With Multivarki cook it there is no trouble!
Mushroom soup in multivarka
To prepare the mushroom soup in multivarka we need:
fresh mushrooms (or other fungi) – 400 g, potatoes - 2 PC., bow - 1-2 PC., carrot - 1 PC., cream - 100 ml, water - 300 ml, salt, garlic, spices to taste (pepper, thyme, oregano, nutmeg), vegetable oil.
How to cook mushroom soup in multivarka?
1. Prepare the mushrooms: iterate, Clean and wash. Cut into several pieces.
2. Potatoes, bow, carrots cut into cubes and purify.
3. Pour into a bowl Multivarki vegetable oil and on the program "Baking / Roasting" lightly fry the onion and carrot, through 10-15 minutes program disables.
4. add the potatoes, mushrooms, water, cream, salt, garlic and spices, cook mode "Soup / Quenching" 50-60 minutes. (optionally add a spoonful of butter).
5. Soup pour into another bowl, and shred the contents of the blender, if necessary, add the warmed cream, If the soup is very thick. For more delicate creamy consistency, further wipe obtained through a puree.
6. Serve, decorating green leaves or pre-fried mushrooms halves. You can to a dish to cook toast.
How to cook mushroom soup in multivarka recipe videos: