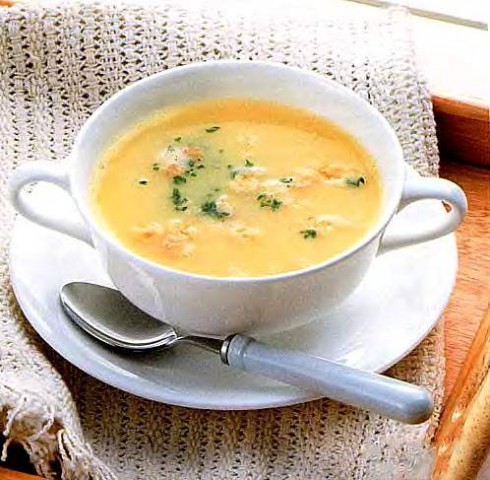 Peas are rich in protein, vitamins, mineral salts, there are a lot of B vitamins, ascorbic acid, potassium, phosphorus. Dry peas is a whole or crushed, yellow or green. Whole peas before cooking must be sure to rinse and soak, and boil it for a long time - up to one and a half hours. Crushed or crushed dried peas do not need soaking, it should just wash. Cooked very quickly, from 15 to 30 minutes and well boiled soft.
Nourishing pea soup perfectly with smoked. This soup will present lunch ornament. The soup can be cooked from dried or fresh green, or canned peas.
Pea soup with smoked ribs in multivarka
To cook pea soup with smoked ribs in multivarka we need:
Dry peas - 1,5 c., smoked ribs and other meats (ham, ham) – 300-400 g, by 2 PC. medium carrot and onion, 3-4 PC. potato, vegetable oil, salt, spice (black pepper and allspice, Red pepper, turmeric, Bay leaf), garlic, greenery, bread for the croutons.
How to cook pea soup with smoked ribs in multivarka?
1. Peas good wash. Split peas soaked, but only wash, a need to soak, Gulf water and put in a cool place for a while, usually at night.
2. Smoked meat cut away the ribs, cut into cubes.
3. my vegetables, clean, cut into cubes, Carrot Grate.
4. Install the program "Baking / Roasting" on 10 minutes, Pour into a bowl the butter and fry the onions and carrots.
5. Fall asleep prepared peas, sausage and potatoes, spices and salt, fill with water and set "Quenching / Soup" mode 1,5-2 o'clock. check the, Do peas welded during this time (as his grades are different), if necessary, prolong brew.
6. While the soup is cooked, you can prepare him crackers. For this bread cut into cubes and lightly fry in oil in a frying pan.
7. The soup of the 10 minutes until done to put a bay leaf, garlic, you can leave the heating on for another 10-15 minutes.
When serving put in the soup croutons, greens and sour cream to taste.
How to cook pea soup with pork in multivarka recipe videos:
Note: for multivarok-pressure cooker cooking time soup 35-40 minutes, for ordinary cooker 1,5-2 hours in the mode "Stewing/Soup".