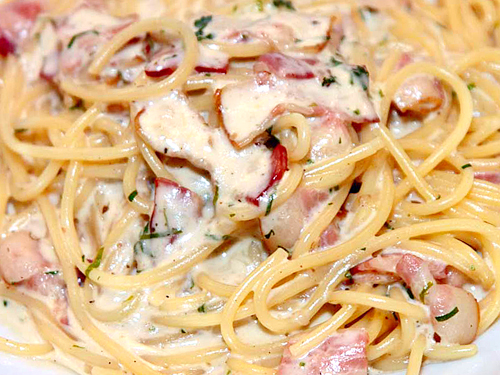 In Italy it is very popular this sauce to the spaghetti or any pasta, how alla carbonara. It usually consists of only three components - egg, jerked brisket or bacon and cheese. Often added more cream, bow, garlic, but it should be noted, it is not mandatory ingredients. Once this exquisite gravy came up with a simple miners, that is why she is called Carbonara, which means collier.
Spaghetti carbonara in multivarka
To prepare spaghetti carbonara in multivarka, we will need:
Spaghetti - 0,5 kg, bacon - 200 g, egg - 3 PC., butter - 50 g, sыr parmesan 100-150 g, basil, garlic, cream oily 1 c., salt, black pepper, water for boiling pasta - 1 l.
How to cook spaghetti carbonara in multivarka?
1. Peel the onions and garlic, finely chopped. Bacon cut into small strips. Cheese rub on a small grater.
2. Multivarku install mode "Baking / Roasting" and melt in a bowl of butter, then fry onion and garlic for 10 minutes, adding bacon bits. disable program, Fried and put in a separate bowl.
3. In a bowl pour Multivarki 1 liter of hot water, salt, to install the program "Soup / Pasta" on 10 minutes, after boiling water, lower spaghetti, cook until cooked according to package directions, about 7-10 minutes, depending on the type. Remember, that authentic Italian pasta should be slightly dovarennymi (al dente).
4. Until cooked spaghetti, in a bowl, mix eggs, cream, salt, add a small amount of grated cheese, slightly beating mass mixer.
5. The boiled spaghetti add fried bacon with onion, mix well, then pour cream-egg mixture, stir again, close the lid and wait a few minutes, that the cheese in the sauce slightly melted.
6. When applying hot spaghetti Carbonara sprinkled with grated parmesan cheese, freshly ground black pepper and garnish with basil or parsley.
How to cook spaghetti carbonara in multivarka recipe videos: