Beautiful and well-groomed hands are an essential attribute of the image every woman. For this you need to carefully monitor the health and appearance of the plate and to ensure proper nail care. This can be done through baths, masks and regular manicure.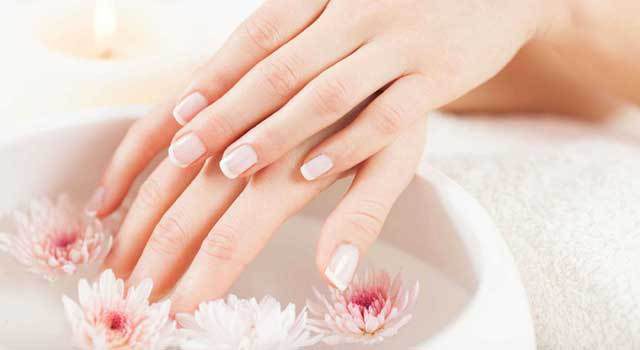 General tips
Nail care should be a right and thorough. The only way a manicure will look beautiful, and nails will be healthy and strong. To ensure this, you need to follow these tips for nail care:
You need to follow the delamination and prevent its. Nails it is better not to grow to a critical length, and immediately to trim and to cut. It should be done, while the nail plate is dry.
To nourish the skin and nails, you can use vaseline. You must do it daily, special, if you often have to work with your hands. You can buy in the drugstore. You need to apply it on hands and nails, wear rubber gloves and nourish so 4 o'clock. The best thing to do is before going to sleep.
Hand need to protect. Always use protective gloves, that will prevent the ingress of chemicals. This should be done every time, when you work at home.
Hygiene is the most important item in the care not only of nails, but the whole body. Hands should be washed with soap and water regularly, especially after finding on the street or work at home, in the school garden. Otherwise, bacteria will multiply, which will lead to fungus plastics and leather.
It is strictly forbidden to chew nails. It is comparable to Smoking the same bad habit, which destroys the structure. If it is difficult to get rid of, you can put hot pepper. It will soon kill the urge to bite your own nails.
Diet is a very important aspect of nail care. The diet should contain a whole list of essential vitamins and minerals. You need to eat more fish, dairy products and meat. Besides, vitamin E can be purchased in liquid form and RUB it directly into the plate.
Biogel can replace shellac. He appeared in the market recently, but it is a good alternative to varnish. It not only can replace it, but to treat the nails. Biogel is a color, and transparent. It is necessary to dry with UV lamp. To keep it will be long enough.
Nails must be nourished. For this purpose there is a special nail Polish with healing properties. It can be bought in a pharmacy. Before, how to apply it, the plate should be degreased. This can be done using lemon juice. Varnish is applied in two layers.
Cosmetic paraffin wax is an excellent remedy to strengthen nails. It can be bought in a pharmacy. Tool melt, cool, and then you place it in the fingers. When the medium solidifies, you are to make two layers. When such "glove" ready, they need to keep 3 o'clock, and then delete. Repeat the procedure weekly.
Base coat is a must. This is especially true when using dark colors, as they can cause yellowing. After the last layer of lacquer you need to apply fixative Polish. It will prevent rapid wear of the manicure. Should definitely take breaks between wearing nail Polish.
Due to the influence of the external environment, bad habits and work nails darken and become unsightly yellowing. They need to bleach. It will fit baths with soda and sea salt. Also used will be lime or lemon, the pulp which perfectly whitens the plate. After the procedure it is advisable to feed it with glycerine.
Mandatory is to protect from frost. Warm gloves in the cold season will help prevent cracking, peeling and freezing of skin. For these purposes, you can also buy a special cream or natural oils. for 15 minutes before they need to treat the hands.
Nail plate
first, what you need to pay attention, this nail plate. The form, Colour, texture can tell you about, what hurts people and what is missing his body. for example:
Tarnish. This indicates, that the human body lacks of vitamin A, B and E, or anemia.
Too thin plate. This indicates a lack of calcium and phosphorus.
Slow growth. Such a characteristic may indicate broken material exchange.
Too fast growth. Can indicate a hormonal problem.
Bands. This indicates a problem with the gastrointestinal tract.
The dark longitudinal stripes. May indicate excess iron.
Nail care at home
Nail care at home is not only possible, but necessary. It consists of a list of simple procedures. It is important to know the basic rules, and to ensure that such care is regularly. first, what you need to care is to hand. They definitely need to protect from the weather and household chemicals. It is enough to choose the right moisturizer.
If we neglect the rule of moisturizing hand, then it is very easy to know the age of the person. It is therefore very important to always have a hand cream. It needs to be a pleasant smell and texture, as well as having an appropriate composition. It is best to use it in their free time. So do not create the desire to erase is not absorbed layer.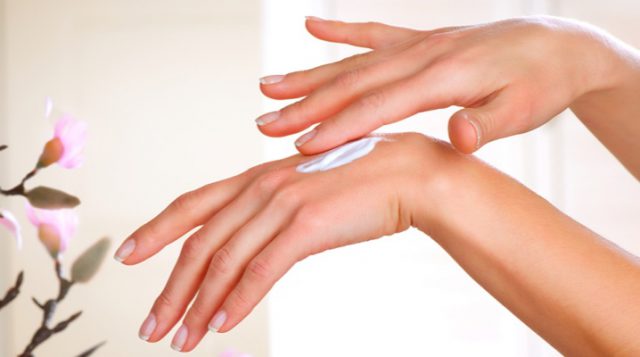 Dermatologists recommend looking for alternative creams in the form of lotions. They are good in, that quickly and accurately soften the skin, allowing then to get back to work. However, due to its water content it quickly evaporates, which leads to the source of dryness. It is best to use the funds for oil-based, since their effect is much longer.
For, to shape the nails, you need to use a nail file. It is better, if they are glass, however, you can use those, which are based on rubber or cardboard. They have a mild impact. Important, to nails were dry, and the direction has not changed.
The cuticles do not have to constantly trim. You can just push and soften. However, this rule does not apply to hangnails and dead skin. They definitely need to trim and remove. Do it better with tweezers and carefully, to avoid damage to healthy skin. Otherwise, inflammation can occur.
Nail Polish should be selected responsibly. It is strictly forbidden to buy cheap lucky. The firm should be checked. However, even using a good varnish is not too often to apply dark shades. They give the plate a yellow. To avoid this, need to cover their basic varnish. For removing the old layer it is better to abandon acetone.
To save power, health and beauty nails, you need to follow the tips for nail care:
Be sure to wear protective gloves when cleaning and washing dishes. It will not allow chemicals to eat away at the nail and skin.
To protect your hands and nails in winter, need to wear gloves. They should be made of natural materials. In the summer you need to constantly use a moisturizer, to keep hands dry.
To get rid of yellowing and dirt on the nails, you can use lemon. It is important to immerse the fingers in the fruit of around 5 minutes, then wash hands with water.
Before, how to cut the cuticle, it needs to be soften in warm water with soap.
So you don't have too often to cut the cuticle, her need care. This will help special oil. A drop will suffice, to get rid of excessively dried.
Baths should be regular. They strengthen and nourish the nail plate. You can use different oils, eg, olive, essential or tea tree.
Use vitamin complexes also need to regularly. You can take them in or to grease the nail with a special tool.
It is important to eat right. The diet must be present fish, and dairy products, vegetables and fruits.
You need to carefully monitor the, how to grow nails. They should not exfoliate and break. Once the nails are too grown, the length need to be adjusted to the optimum.
It is necessary to avoid frequent build-up of acrylic. After 2-3 once the nail plate needs to relax. At this time, you can use regular or gel polishes.
Baths for nails
Baths are mandatory, which will ensure proper nail care. It is affordable and simple method, to help get rid of the bundle. Baths for nails is very effective with regular use. There are different recipes, differing in purpose and ingredients. They are useful for a number of reasons:
Hydration of the plate and addressing the causes of fragility.
Food nail vitamins and trace elements. for example, if you add lemon juice, this will prevent lamination.
The acceleration of nail growth.
If the nails are brittle, do not be redundant oil warm baths a couple times a week. For better result you can add a little vitamin A, lemon juice and iodine. Salt baths help to eliminate brittle nails. Warm oil moisturizes the skin as, and plate. For brittle nails will be good to use a baking soda and iodine, which will assist in the healthy growth. Lemon juice is used to bleach.
To resolve the dryness you can use a moisturizing bath for 10 minutes. To do this, mix the following ingredients:
two drops of oil of frankincense, roses, citrus and tea tree;

by 10 ml of jojoba oil and wheat;

1 a drop of iodine;

a few drops of lemon juice.

The alternative may be the tray based on castor oil. It can be replaced and olive. Oil should be heated in a water bath, and then put the nails about 10 minutes. You can also use corn oil with the addition of iodine. The tray is best done once a week for healthy nails, and 2 times for problem. Upon completion of the procedure you need to use a cream for hands.
If the time for a full bath there, you can just dip a cotton pad into the oil, and then wipe over the nail plate. The effect will be less, but this procedure will not take time.
In addition to oil, you can use salt baths. They help to strengthen nails and accelerate their growth. This is especially noticeable after a day at sea. However, do not have to go somewhere, you can do a similar procedure at home.
It is best to use sea salt or ocean. For this you need to dissolve 1 st.l. of salt in one Cup warm water, and then to hold it the tips about a third of the hour. This should be done two or three times a week. If method is used more often, contact with salt water can have a detrimental effect on the skin.
Recipes baths
In addition to the above recipes, it is possible to use baths of the following components:
Crushed sea salt. It needs to be mixed with vegetable oil. The mixture should resemble a paste. Then you need to add a liter of warm water and stick their hands in there. After 15 minutes the nail plate should be lubricated with glycerin.
Esters and thyme. The plant should cook, using about fifty grams, and then let stand. In the broth to pour olive and vegetable oils, and then to add the esters of rosemary and lemon balm four drops of each. The final touch is a few drops of iodine.
Burr and vitamin a. Vitamins in the form of ampoules to mix with shampoo, and then pour a little water.
Orange pulp and almond oil. Fruit need to chop and grind to a pulp. Then, you should add a little oil and vitamin E. After a bath the cuticles must be processed with special tool.
Heavy cream and natural honey. About fifty ml of cream must be mixed with milk. You need the mixture to warm, and then allow to cool and add 1 st.l. honey. After finding the blended mixture nails should be washed with warm water.
Baby mild shampoo with baking soda. Solution and water in proportion 4:15 you need to dilute 1 ch.l. soda, almond oil and iodized salt. The mixture must be heated on the stove.
Dark beer. You must use a vital product in the amount of 0.4 l if overheated. Added brewed 40 g eucalyptus. Beer you can substitute red wine in quantity 0.2 l.
Onion and geranium. Dried geranium in the amount of 45 g infused in the decoction. Then add onion in the form of rings. Need to brew about 15 minutes, and then half an hour to use as a tray.
Mask for nails
In addition to the baths, you can use special masks for nails. They need thick mass apply to hands and nails, and then let rest for about half an hour. For best effect it is recommended to wear over gloves. Can be done at home mask in the following recipes:
Hand cream. About 40 g of product need to be diluted 0.025 l of glycerol and 5 g gelatin. Weight swell through the third hour, after which it can be applied to hands.
Chicken egg and natural honey. You need to beat protein from 2 eggs and the yolk of 1, so that foam. After you need to pour 0.04 l of warm honey with the olive oil.
Apple. Fruit need to clean and get rid of the core, then grind using a blender. The resulting slurry must be diluted 0.055 liter of almond oil, and then add 1 st.l. honey and 5 crushed ascorbinic.

Currants. Crushed berries, mix with 1 st.l. flour, olive oil and sour cream. After the procedure should be rubbed into the plate glycerine.

Bee's wax. This tool will be effective in the fight against lamination and excessive softness of the nail. It must be applied regularly – every 3 day. Beeswax can be bought in the store. Take a piece, it should melt, and then to put there fingers.

Salt with lemon. This method will help to whiten and strengthen nails plate. Salt has to be marine, it is necessary to pulverize and dilute with lemon juice. In a slurry before applying to the hands you need to add fat of your choice. Before the procedure should definitely moisturize your hands with a fat cream.

Cherry. 0.1 kg of plants to grind to a state of pulp. You need to add 25 grams of gelatin and let stand. It will take about 30 minutes. After you have to dilute the mixture of citrus juice and vegetable oil.

Chilli. You need to mix the product with the cream on the fat content, and then add 2 Article. l. castor oil, a little of the air of grapes and geranium oil. Signal to the removal of the mask will be feeling the heat.


The right manicure
Nail care includes manicures. It needs to be correct, to nails look beautiful and healthy. For this you need to follow the following algorithm:
Before the procedure of manicure is necessary to wash hands with soap, and also to remove the old varnish. This is best to use a product with vitamins.
After removing the previous nail Polish you need to trim your nails and to give them the desired shape. For the broad palms are best suited square nails medium length. Oval suitable for all the girls.
When cutting the plates to ensure, to avoid sharp edges. They can clean up with a nail file. Movement should be smooth and light, send standing in the middle. The nail surface does not need to hurt. To prevent splitting you need to cut in the same direction.
When the shape is formed, you have to dip your nails in a warm water solution with liquid soap. This will help the cuticle soak. For rough skin process should take 15 minutes, for gentle – no more 5.
Once the skin is softened, it is necessary to impregnate cream. Then the cuticles with the help of tweezers. Before that, she needs to move to the base of the nail. You must comply with the measure. If you remove too much, it can damage the skin. The wound could eventually lead to inflammation.
You must handle the skin around the plate and trim the burrs.
The final touch is nail Polish. After it need to soak the hands. If you want to achieve shiny nails without nail Polish, it is possible to impregnate the plate with lemon juice. The alternative may be polished with a piece of suede.
The use of the saw
Nail care is unthinkable without the nail file. By her choice should be approached responsibly. You should avoid metal nail files, as they expose the structure of the nail destruction. The best option is a nail file made of glass. It does its work gently and not break the plate.
The choice of fit is very individual. The perfect nail file is after, how will be tested all types of. They have different degree of granularity, measured by grit. The most soft have the highest rate, and hard – low. The perfect brush needs to have an average figure, to be not too smooth, but not hard. Natural nails it is best to file instruments with a rubber or cardboard based. The process of sawing the plates should always be up to baths, as they remain dry.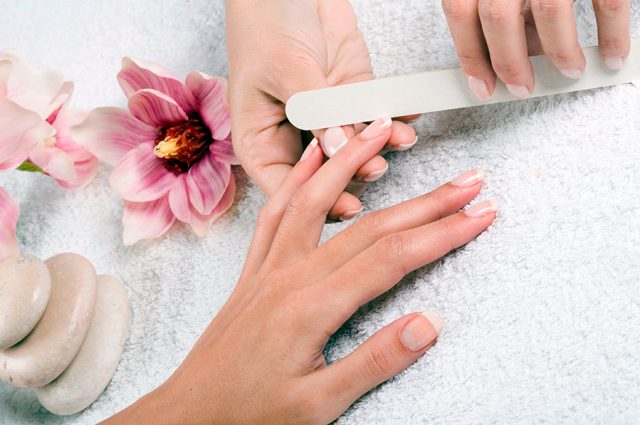 Types of nail files are the following:
from 60 to 100 grit. This is the most solid tools. They are best used during a pedicure.

from 100 to 240 grit. These files should just file the artificial nails. eg, extensions using acrylic. If you use them on natural plate, the structure will become damaged and begin to flake.

Exactly 240 grit. This option is suitable all kinds of nails.

from 250 to 400 grit. These files are called grinding. They are used for final adjustment of forms.

from 400 to 900 grit. The first of the soft tool categories. They will prepare the nails for polishing.

from 900 to 1200 grit. The soft. Typically, these indicators are buffs, to help you achieve a Shine.
The cuticle and protect
The cuticle is one of the main attributes of well-groomed and beautiful hands. Nail care includes the care for this area. If it is dry, and its layer is thick, the nails will be very spoiled. To avoid this, you need to take care of cuticles with special oil. Usually they are sold with pipette. Bottle with this liquid, you can always carry with you for emergency the skin. It is enough to use a drop on each plate, and then to RUB remedy massage. This will help to accelerate the growth of nails, and also make them healthier.
To correctly process the area at the base of the nail, you must follow this algorithm:
To soften the cuticle with oil.
After moistening her need to move by means of a special tool. You can also use orange stick.
With a nail clipper removes burrs and excess cuticles. This must be done carefully, taking care not to injure the skin.
Cuticle treatment needs to be daily. In addition to the special oil, you need to use creams with moisturizing effect. To get rid of excess skin should be regularly, the nails looked neat. It is possible to use not only wooden sticks, but metal, and plastic with rubber tip. The safest way to do edging manicure.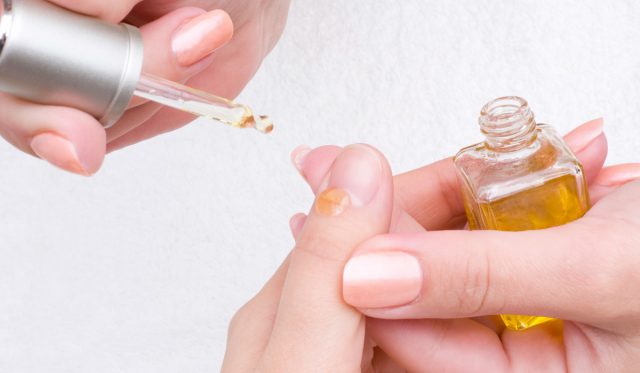 After that, as the cuticle is given in the order, it is necessary to cover the nail plate protective agent. There exists a great multitude. They can be for just care, alignment of the relief, strengthening, lightening and stuff. The choice depends on individual preferences and problems, facing the nails. There are also funds, which can be used as a base under nail Polish.
Besides, worth remembering, what you need to protect your hands with rubber gloves when performing household chores. This is especially true of the use of chemical household agents, eg, cleaning and washing. The components of these household products can significantly weaken the nails, increasing the brittleness, and also not to destroy the structure. Prolonged exposure in the water also has a detrimental effect on the nails.
To combine nail care and cleaning, you can fill gloves cream. This will create the effect of a compress, which will improve the nutrition of the skin and filling it with vitamins. So, after cleaning the skin remain soft and hydrated.
Polish
The final touch is nail Polish. Product choice must be deliberate and responsible. If he fell to the dark lacquer, it is necessary to purchase a base. It will not allow the pigment to penetrate into the plate and paint over it, as well as helping to avoid yellowing.
Absolutely can not buy cheap lucky. It will only spoil the structure of the nail. Better to give preference to expensive varnishes or average price. So the color will be richer, the coating is smoother, and the manicure will last longer. for example, lucky some firms hold as many as 3 of the week.
Even if the Polish is expensive and proven, should take breaks. Excessive use of these products can be fraught for the nail plate. Can begin bundle or destruction.
Nail Polish is used to protect from the external environment, correction just for beauty. The layer should not be too thick and dense, the tool itself should dry quickly and not have chips. For, to increase the term of detention of nail Polish, pre-need to degrease them. The thinner will be the layer, the more persistent will be the effect. It is best to apply two coats. It is necessary to wait, while the first dries, and only then apply the second. The exception is quick-drying varnish. In its composition more pigment, he dries faster. This varnish is applied with only one layer, covering the entire plate.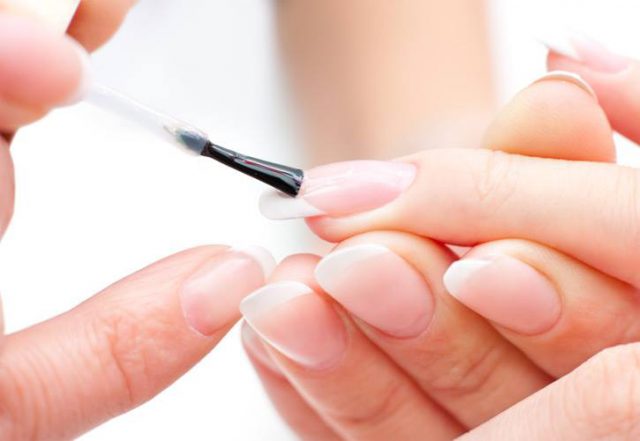 Food nail plates
To give yourself a beautiful manicure and proper nail care, the women need to monitor their diet. It must be balanced, rich in vitamins, trace elements and minerals. Therefore, food should take those products, a part of which are:
vitamins a and;

vitamins D and E;

calcium and sulfur;

iodine and magnesium;

zinc and iron;

silicon.
For, to the plate was strong enough and elastic, need calcium. You can get it from fish, seafood and figs, and almond, legumes, dairy products and eggs. You must also eat enough fruits, vegetables and red meat, to get iron. It will help to strengthen the structure of the nail. Vitamin b and iodine help to improve nail growth, they are contained in:
the yolks of eggs, the seaweed and spinach;
brewer's yeast and wheat.
The nails were healthy, you need to consume adequate amounts of magnesium and manganese. The first is present in nuts, cereals, beans, bread and cheese, and the second to garlic, beets, pasta, apricots, greens and mushrooms. To prevent breakage and delamination, it is important to consume foods containing vitamin A. He included in:
liver and vegetable oil;
carrot, tomatoes and herbs.
One of the products, most beneficent, is gelatin. It supports joint health, so under the affected nails. To get it is to use the marmalade and jelly, as well as jelly from the berries.
For a sufficient number of all elements in the body, it is necessary to take vitamin complexes, so how to eat the necessary amount of food is impossible. Such vitamins can be purchased at the pharmacy or store. In addition to improving the condition of the nails, it will also help to restore the health of skin and nails. Proper diet and taking vitamins will ensure a beautiful manicure and make it easier to nail care.
A beautiful manicure is the key to success. However, without proper care and a balanced diet to have healthy and strong nails is impossible. To properly care for them, you should regularly take a bath, eat right, follow the cuticle and responsible approach to the choice of nail Polish.