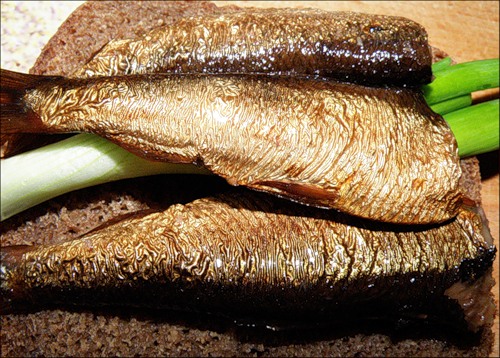 Prepare sprats in multivarka not difficult. The fish turns out very juicy, a beautiful golden color, there is absolutely no carcinogens. Pets sprats from Multivarki not disappoint you unsightly appearance, you can often meet, opening a can of food. sprats, prepared with their own hands, more useful, that cheaper, that too is not unimportant.
And, you can experiment with spices and fill composition.
Sprat fish in multivarka
To prepare sprats fish in multivarka, we will need:
1 kg Kilkee, capelin and other small sea fish, 5 st.l. dry tea leaves of black tea, 5 st.l. vegetable oil, 2 ch.l. salt, 2 ch.l. Sahara, 2 ch.l. soy sauce, bow - 1 small head, 20 peas of black pepper, 3 lavrovыx listika, a handful of onion peel.
How to cook fish sprats in multivarka?
1. Dry tea leaves pour boiling water, would need 2 glass, leave to brew 5-10 minutes.
2. The fish is gutted and cut off the head, wash. In the bowl lay Multivarki onion peel and processed fish.
3. Tea brew strain through a sieve, add salt, the remaining spices, vegetable oil, natertыy bow, stir well and pour on the fish. Peppercorns and bay leaf, add in a bowl.
4. Close the lid, Install the program "Quenching" and cook 1-1,5 o'clock. You can add a little liquid smoke.
5. Ready sprats gently transfer to a bowl, Only when they are completely cool, and put in the cold. Hot fish do not transfer, it can easily go wrong.
Cooking Tips:
Instead of onions you can add carrots, cut into slices, which is placed on the bottom of the bowl, and then at her onion peel and all remaining ingredients.
Sometimes fill add rice vinegar, some buds of cloves.
How to cook fish sprats in multivarka recipe videos: