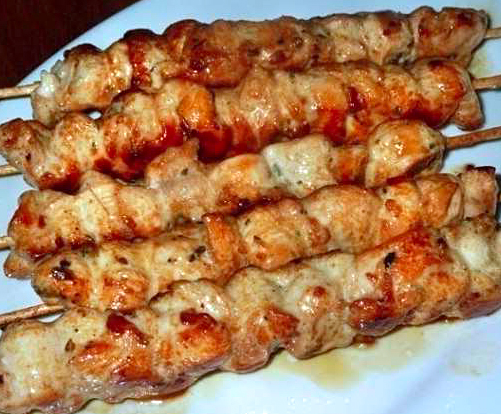 Fragrant, succulent skewers of chicken, prepared using Multivarki, characterized by a very special taste. Meat is a surprisingly soft, with the presence of aromatic spices. Quite possible, that this simple dish will be the highlight of your holiday or family dinner.
Skewers of chicken multivarka
To prepare the skewers of chicken multivarka, we will need:
0,8 -1 kg of chicken meat without bones or fillets, 1-2 st.l. adzhika, 2 Article. l. ketchup or tomato paste, 150 d mayonnaise, 2 Article. l. vegetable oil, salt, seasoning, 1 onion, 100 g soy sauce.
How to cook skewers of chicken multivarka?
1. Chicken fillet cut into medium-sized pieces, wash, obsushivayut and place in a bowl, where it will marinate. Onions cleanse and cut into large pieces.
2. In a bowl add the onions with the meat, soy sauce, adjika and tomato paste and mix well hand. Put in a cool place, minimum of 2 o'clock, possible for the night.
3. After that, meat well promarinuetsya, add mayonnaise in it, salt, spices to taste, mix well.
4. multivarku set in "Baking" mode 40-60 minutes (depending on the power Multivarki), Pour the oil in a bowl and wait, until it warms up.
5. Put the chicken in a bowl (onions can be removed) and cook until the end of the program, stirring a couple of times during cooking for uniform browning.
6. After cooking, the chicken pieces can be put on a wooden skewer or skewers.
7. Serve skewers with fresh vegetables and herbs.
Cooking Tips:
The marinade can add a little "liquid smoke".