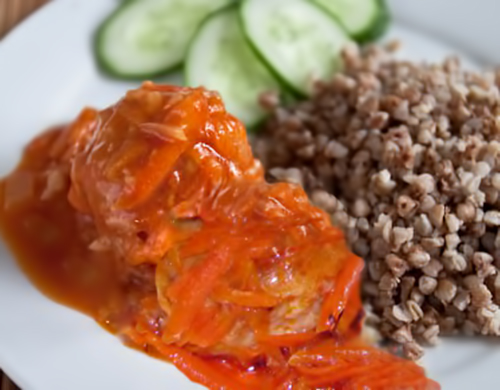 Gentle dietary dish can be cooked with fish for this recipe. Meatballs obtained low-calorie, and zucchini, which is part of the dish, Besides, that enriches it with potassium, also interrupts fishy taste. Many people do not immediately notice, what a fish is present in this dish, and not a bird. Especially tasty meatballs can be obtained from sea tongue, telapii.
Fish meatballs with rice in multivarka
To cook fish meatballs with rice in multivarka, we will need:
Filet any fish - 0,6 kg, bow - 1 PC., boiled rice - 1 c., egg - 1 PC., vegetable oil, parsley, Squash - 200 g, salt, pepper to taste.
for the sauce: tomato paste - 1-2 Article. l., cream - 200 g, carrot - 1 PC., bow - 1 PC., salt, spices - to taste, greenery.
How to cook fish meatballs in multivarka?
1. At first, prepare the sauce for pouring meatballs. For this: carrots and onions should be cleaned and finely chopped, carrots can grate.
2. In Multivarki bowl pour a little vegetable oil and lightly fry the onion and carrot for 15-20 minutes, setting the program "Bake". Add tomato paste, 100 ml. hot water, Add salt and pepper to taste, stir and put the stew 5 minutes, then add the cream and continue to simmer for a while, about 5-7 minutes.
3. cook meatballs: fish fillets grind using a blender or grinder, add pre-cooked rice, rubbed and pressed juice from raw zucchini, spice, egg, finely chopped fresh herbs (you can add garlic to taste) and mix well.
4. From the resulting minced meat formed into small meatballs and place them in a bowl Multivarki, carefully pour on top of tomato-cream sauce.
5. shut off "Baking" mode and install "Quenching" mode, Cook 30-40 minutes.
6. Serve with mashed potatoes, macaroni, buckwheat or rice, sprinkle with herbs.