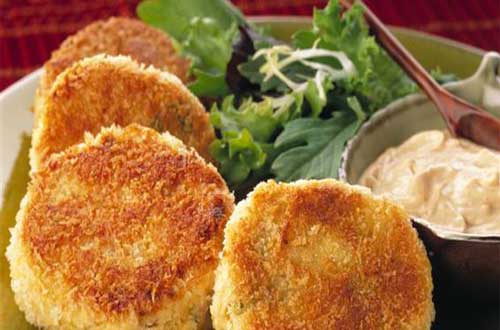 Fish cakes - a great alternative to meat or chicken. These patties themselves are an excellent source of complete protein, but the usefulness of fish meatballs for this recipe threefold increase, because they include cottage cheese, cauliflower and oatmeal. Try to cook an interesting dish. Cutlets are obtained dietary, They contain a small amount of calories.
Fish cakes with cottage cheese in multivarka
To cook fish cakes with cottage cheese in multivarka, we will need:
Fish fillet - 0,3 kg, cottage cheese - 100 g, cauliflower - 100 g, egg - 2 PC., cereals - 4 st.l., bow - 1 PC., oregano - 0,5 ch.l., salt and pepper, breadcrumbs.
How to cook fish cakes with cottage cheese in multivarka?
1. Fish fillets cleaned of all seed, cut and grind in a blender. Add cottage cheese, parsed into florets boiled or raw cauliflower and chop all again.
2. In the beef put chopped onion finely, eggs, salt and spices, mix well, add oatmeal, stir again and put on 30 minutes in the refrigerator for swelling.
3. In a bowl pour the vegetable oil Multivarki. Of minced meat formed into patties, roll in breadcrumbs and fry in the bowl in Multivarki "Baking" mode. Burgers flipped to the other side through 15 minutes from the beginning of the preparation, and then cook for a further 10 minutes.
4. Serve cutlets with any garnish and sauce.
Cooking Tips:
Try adding chops chopped parsley, spinach or fennel.
Cauliflower can be replaced with a carrot, courgettes, bell peppers and other vegetables at your discretion. Finely chopped vegetables can be added in the stuffing, as well as a filling inside cutlets. replacing vegetables, you can each time to cook a dish with a completely different taste!