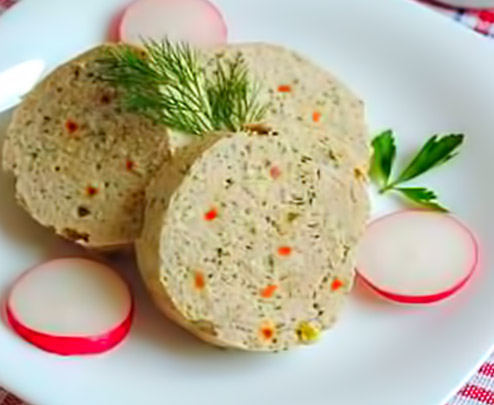 Today pamper the family with something tasty and healthy can every woman, especially, If the kitchen is such a miracle, how multivarka. It will help prepare almost any dish with maximum preservation of nutrients. And in a lot of fish. Phosphorus, fluorine, zinc, potassium, manganese, vitamins, useful amino acids and fatty acids help the body cope with stress, fatigue, to quickly restore power. That's why fish dishes need to be included in the diet as often as possible.
Fish sausages - very original dish, which diversifies the menu. Prepare it for a couple, in a special container, included in the kit Multivarki. Thanks to, sausages that are wrapped in the film or sleeve for baking culinary, they turn wonderfully juicy. These include sausages still useful vegetables, which further vitaminize dish. For sausages better to take a red fish in half with white.
Fish sausages multivarka
To prepare fish sausages multivarka, we will need:
Fish fillets - 400 g (salmon, sole), egg - 1 PC., semolina - 2 Article. spoons, carrot - 1 PC., handful of green peas, dill - a small beam, salt, spices to taste.
How to cook fish sausages multivarka?
1. Prepare the fish fillets - to defrost when needed, Rinse, Remove all bones, dry.
2. With the help of a blender or grinder must be thoroughly grind, add egg, salt and pepper, stir well, you can even use the blender to whip.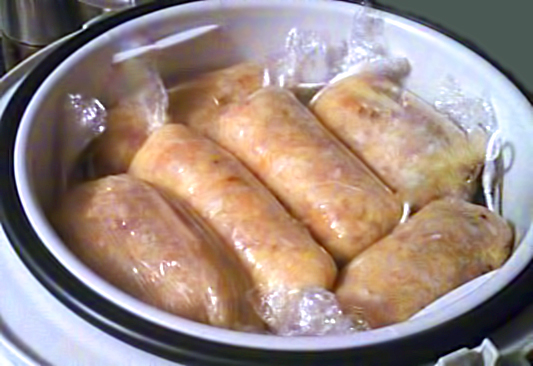 3. Add the semolina and finely chopped dill, green pea, boiled carrots, chopped into small cubes, stir again and leave for 30 minutes for the swelling of cereals.
4. Prepare the sleeve for baking or plastic wrap for high temperature. Fish mass divide by 3-4 parts and place the cut portion in the film, carefully twisting the ends. The film on top is necessary to pierce in several places with a needle.
5. multivarku set mode "Cooking in steam". The pour cup of hot water to the bottom mark. From top to insert the container for steam and place the prepared sausages, the holes, we pierced, were top.
6. cook about 15-25 minutes, time depends on the thickness of sausages. readiness check, pressing on the sausage, if it is ready, it will yield. In this case, application to disable.
7. Serve hot or chilled sausages, as a main dish, either as a cold appetizer.
Cooking Tips:
In the same way you can prepare and chicken sausages, using instead of fish, chicken fillet.