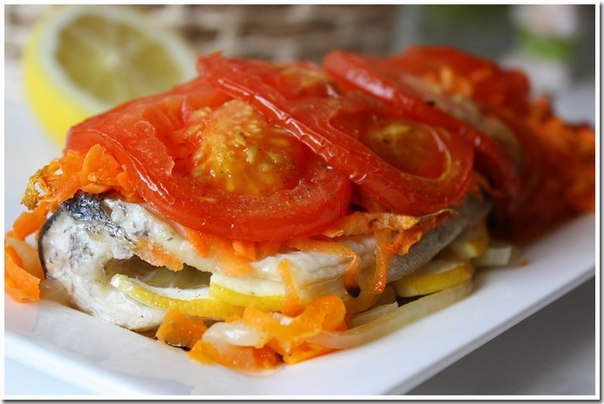 lean fish is particularly well suited for this recipe, such as blue whiting, hek or Alaska pollack, and salmon. Lean fish obtained sufficiently dry, if its just fry. But if you prepare it with vegetables, following, like juicy tomatoes, and even in the sour cream or mayonnaise filling, then it will turn out very juicy, It will just melt in your mouth. Fish at the same time being prepared in a kind of vegetable cushion and impregnated with useful vegetable juices, It is enriched with vitamins.
Try the baked fish with tomatoes in several ways: vegetables by the first method, and with vegetables and cheese in the second method,.
1. A fish, baked with tomatoes and peppers in multivarka
To cook fish, baked with tomatoes in multivarka we need:
0,5 kg salmon (heka, pollock), 4 ripe tomatoes, 2 PC. Luke, 1 PC. bell pepper, parsley, salt, spice, vegetable oil, 100 g mayonnaise or cream, lemon juice.
How to cook fish, baked with tomatoes in multivarka?
1. fish gutting, Rinse, dry and rub salt and pepper, cut into portions.
2. tomatoes, pepper and onion cut into thin rings.
3. In a bowl, pour the vegetable oil Multivarki, Put half of the vegetables, salt and poperčite, sprinkle with finely chopped greens.
4. Lay the fish on vegetables, sprinkle it with lemon juice, lubricate the sour cream or mayonnaise, place on top of the remaining vegetables, prisolit and pepper them, You can also pour the vegetables and mayonnaise or sour cream.
5. Close the lid and cook in the "Baking" mode 30-40 minutes, time depends on the size of the pieces of fish and power Multivarki.
6. Serve the fish with mashed potatoes, any other side dish and garnish with greens.
2. A fish, baked with tomatoes and cheese in multivarka
To cook fish, baked with tomatoes and cheese in multivarka we need:Fish fillet (hek, salmon, mintai) – 0,7 kg, cheese varieties - 150 g, a tomato - 2-3 PC., garlic - half a head, Lemon - ½ units., cream - 100 g, dill, salt, black pepper, vegetable oil.
How to cook fish, baked with tomatoes and cheese in multivarka?
1. Fillets to defrost when needed, Remove all bones when available, wash and dry. Garlic peel and chop or grind with the help of the press, sprinkle with lemon juice, salt, add the finely chopped herbs. Good fish marinade soak received from all sides, leave to marinate in the 10-15 minutes.
2. Tomatoes washed and cut into slices. Cheese rub on a coarse grater.
3. In Multivarki bowl pour a little vegetable oil, grease the bottom and sides and place marinated fish.
4. Fish cream top fluff and expanded on it a layer of chopped tomato, bit prisolit and pepper to taste.
5. Tomatoes sprinkled with grated cheese, distributing it evenly.
6. Multivarku set "Baking" mode 20-30 minutes or choose a program "Multipovar" with temperature 120aboutWITH.
7. Serve with mashed potatoes or any other garnish of your choice.
How to cook fish, baked with tomatoes and cheese recipe videos: