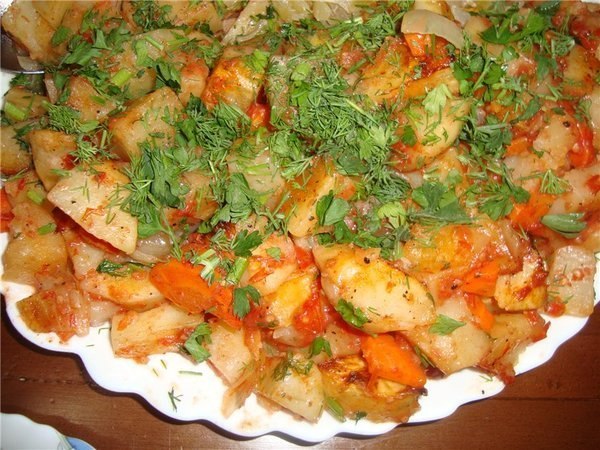 Fish - a great and healthy dish, which it has a useful protein and minerals, eg, phosphorus and calcium, and saturated fatty acid. Beautiful garnish for fish will be potatoes or other vegetables. Experiment with a set of vegetables, change them according to your taste and preference, multivarka and help in the preparation of this interesting and simple dishes.
Fish baked with potatoes in multivarka
To cook the fish baked with potatoes in multivarka, we will need:
0,5 kg fillet of any fish, 1 bulb, 1 carrot, 4 PC. potato, greenery, lemon juice, salt, spice, vegetable oil
How to cook the fish baked with potatoes in multivarka?
1. Fish fillets if necessary to defrost, Rinse, dry, sprinkle with lemon juice, sprinkle with salt and spices.
2. prepare vegetables, Peel and wash. Onions cut into rings, carrots and potatoes - into cubes or strips.
3. In a bowl, pour the oil Multivarki, Put the onion layers, potatoes, carrot, solim, plumelet, We put a few sprigs of parsley or celery, on them - prepared fish fillets.
4. install "Baking" and preparing mode 40-60 minutes.
Cooking Tips:
The dish can add other vegetables, eg, tomatoes, zucchini, eggplant pepper to taste.
Add sour cream or mayonnaise - you will get a different and more original flavor.
On top of the fish can be sprinkled with grated cheese.