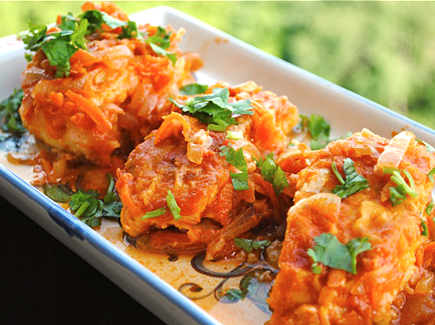 Everybody knows, that carrots are rich in vitamin A, which is very necessary for our vision. A fish - this is a real storehouse of nutrients, easily assimilable protein and micronutrients. The presence of sour cream gives this dish a delicacy, and spices and herbs - a special taste. Fish soaked with vegetable juice, It turns dietary and very juicy.
products, which are pre-prepared meals for, It remains just put in layers in a bowl Multivarki, set mode, and you can go and do their own thing. Readiness multivarka beep exactly one hour!
Fish in carrot coat in multivarka
To cook the fish in a fur coat in the carrot multivarka, we will need:
2 PC. onions, 0,7 kg fillet of any fish, 3 PC. carrots, vegetable oil, cream - 1,5 c., parsley or dill, salt and spices to taste.
How to cook fish in carrot coat in multivarka?
1. The fish is cleaned from the small seed when available, Rinse, cut in small cubes.
2. Onions and carrots to clean, Rinse and chop: onion - thin rings, carrots and grate.
3. The bowl Multivarki bed onion rings, them part of the fish and carrots, sprinkle with herbs, salt and pepper, pour sour cream. Then put the rest on top of the fish and carrots, which also pour sour cream, salt, sprinkle with pepper and herbs.
4. multivarku set in the "Quenching" mode 1 time.
5. Serve with any side dish, eg, with mashed potatoes.