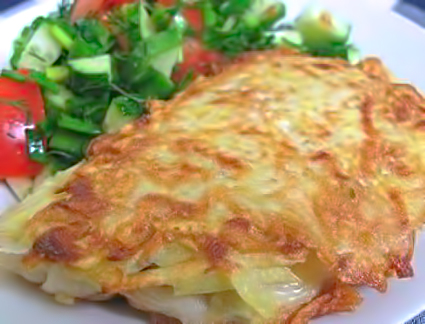 Brother, which turns out tasty fish in potato crust - tender, juicy. The singularity of this dish is, it turns out a kind of "two in one", and fish, and garnish it. Potatoes are a golden and crisp, and the fish just melts in your mouth. This dish will satisfy even the, who to her was always indifferent.
Fish in potato coat in multivarka
To cook fish in a potato batter (batter) in multivarka, we will need:
Fish fillet - 0,8 kg, potatoes - 5-6 PC. medium size, egg - 2 PC., flour, salt, pepper, vegetable oil.
How to cook fish in a potato batter (batter) in multivarka?
1. Fish fillets to defrost, wash and dry.
2. Peel and wash the potatoes, dry from the water and rub on a grater with large holes, thoroughly wring out the excess fluid.
3. In the resulting mass add egg potato, salt, spice, flour (2-3 st.l.) or starch and mix well.
4. The fish is cut into portions salt, Spice up, roll in flour.
5. multivarku set in the "Frying / Baking" mode, Pour oil in a bowl and wait for warm up.
6. The fish is put in a bowl with the potato mixture and gently distribute it on potatoes, firmly pressing it against the surface of the fish. Add to hot oil and fry until golden on both sides. Fry until the end of the program, if necessary, program extended.
7. Serve with fresh vegetables, green peas, tomato or cream sauce, greenery.
Cooking Tips:
Similarly multivarka can be cooked chicken breast in a potato batter.