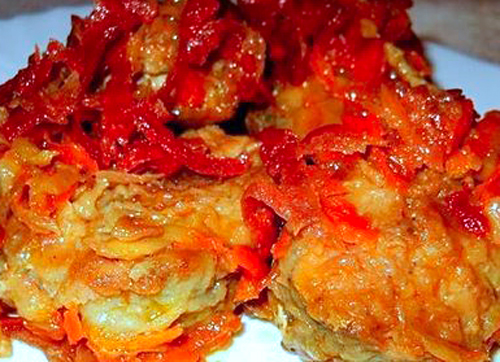 This fish recipe with beets very simple, you will just have to prepare all products, multivarku lay them and wait until the end of the program. No more effort is required. agree, because before this could only dream of! Beet replenish the body such beneficial agent, as betaine, a lot of potassium in it, and folacin, which are very useful for the heart and rejuvenate the body. Rather it helps beets persons, prone to obesity, it cleans the body of toxins and excess fluid, this is a good laxative and diuretic.
Fish stew with beets in multivarka
To cook the fish with beets in multivarka we need:
1 kg of any fish, 2 -3 PC. Luke, 1 carrot, 1 beet, 1 ch.l. salt, 1 ch.l. Sahara, vegetable oil - 0,5 multystakana, seasoning for fish, black pepper, Bay leaf.
How to cook fish with beets in multivarka?
1. clean fish, washed and cut into pieces, SPLIT pre removing fillet and bone.
2. Vegetables to prepare and chop. Onions - rings, beets and carrots - julienne, you can rub on a grater.
3. In a bowl put the vegetables Multivarki, on top of the prepared fish, then again vegetables. Each layer sprinkle spices.
4. Salt and sugar to pour into a beaker, refill water to the top and poured on top of vegetables. Vegetable oil and add to bowl, uniform watering vegetables.
5. set mode "Quenching / Soup" on 1,5-2 o'clock.