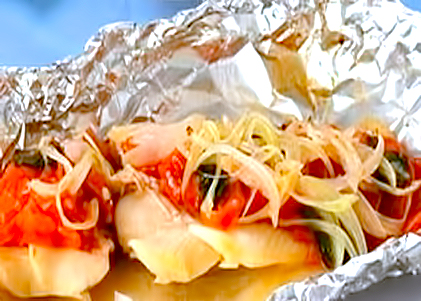 Juicy fish with tomatoes, baked in foil using Multivarki, is good at any time of the year. You will not need to warm up the oven, multivarka cope with the dish as "excellent". At the same time in the kitchen is not too much heat from the oven, It is also important, especially in the summer season.
Fish with vegetables in foil in multivarka
To cook fish with vegetables in foil in multivarka, we need:
Fish fillets - 200 g, tomatoes - 1-2 PC., carrot - 1 PC., salt, spice, greenery, butter.
How to cook fish with vegetables in foil in multivarka?
1. Clear carrots, vegetables washed and cut into cubes. rinse fish, dried and cut into large cubes.
2. Take a piece of foil, approximately 30x30 cm, put on her carrots, tomatoes, a piece of butter and fish, prisalivaya sprinkling spices and each layer.
3. The ends of the foil to lift and tightly wrap the top, so as not to sap flowed.
4. multivarku set in "Baking" mode 20 minutes.
5. In a bowl pour a little water or grease it with butter, the foil is stuck, cook until the end of the program. You can put in a bowl of several portions, leaving gaps between them.
Cooking instructions:
The fish in the foil can be steamed, using mode "Cooking for a couple" on 30-40 minutes and poured into a bowl of water, only fish in foil to be packaged in the form of envelopes. Stack envelopes should be in a special container.
Try to bake fish in foil, liberally coat it with sour cream and sprinkled with spices and herbs, It turns out not less tasty.
Sometimes envelopes foil is placed on a special silicone mat, to the cup is not damaged.
Vegetables in this recipe you can add any, to your liking, eg, bell pepper, bow, zucchini, Potatoes etc..
How to cook fish with vegetables in foil in multivarka recipe videos: