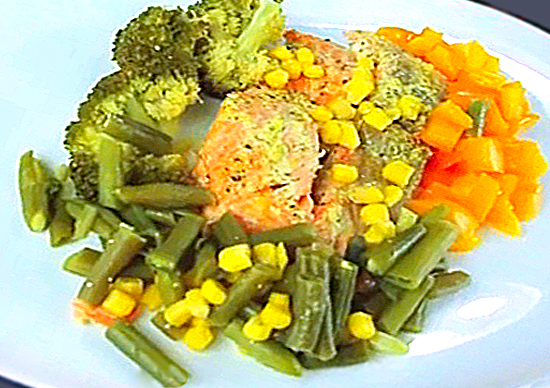 Vegetables, a fish, and even steamed - what could be more useful? Multivarka will allow us to quickly and easily prepare this delicious and very appetizing dish.
Fish with steamed vegetables in multivarka
To cook the fish with steamed vegetables in multivarka, we will need:
Salmon (fillet or other fish) – 300 g, cream - 50 g, sweet pepper - 1 PC., cauliflower or broccoli - 100 g, green beans - 100 g, greenery, little canned corn, salt, spices for fish, greenery.
How to cook fish with steamed vegetables in multivarka?
1. Bell pepper remove seeds, wash and cut into small cubes. green beans, broccoli prepare for cooking: Rinse, cut, cabbage disassemble into florets. If frozen vegetables are taken, then it is better to pre-defrost, or to lay before cooking fish.
2. Sprinkle fish fillets with spices and salt, and liberally lubricate the thick sour cream.
3. The container for steaming fish laid, vegetables, lightly salt.
4. multivarku set mode "Cooking for a couple" on 15-25 minutes (depending on the power Multivarki), pour into a bowl 300 ml of water, set on top of a container, close the lid and cook until the end of the program.
5. Serve fish with vegetables, decorate with greens and canned corn.
How to cook fish with steamed vegetables in multivarka recipe videos: