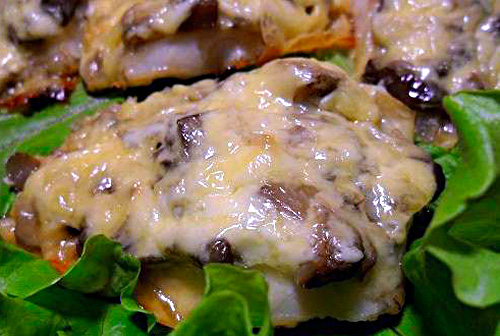 Fish with mushrooms and cheese is very interesting and unusual taste. And besides, and useful, because a lot of phosphorus in fish, calcium, magnesium, iodine, Selena, fatty acids, valuable vitamins. The fish is the most high-quality protein, well absorbed by the body.
Fish with mushrooms and cheese in multivarka
To cook the fish with mushrooms and cheese in multivarka, we will need:
Fish fillets - 400 g, Champignon - 300 g, butter, vegetable oil, bow - 1 PC., cream - 0,5 c., cheese - 100 g, greenery, salt, pepper, flour.
How to cook fish with mushrooms and cheese in multivarka?
1. Fillet of fish washed and dried, roll in flour.
2. Onions and mushrooms clean, Rinse and chop, cheese grate.
3. multivarku set in the "Frying / Baking" mode, on 20-30 minutes, pour vegetable oil and wait, until it warms up. Fish fry to a crisp, put on a plate.
4. Add to Multivarki cup butter and onion, fry it until transparent, put mushrooms, continuing to fry, not forgetting to stir, salt, Spice up, add sour cream. Ready mushrooms divided into two parts.
5. On the part of fried mushrooms and onions to put fish, top distribute the remaining mushrooms, sprinkle with grated cheese. Set "Quenching" mode 20 minutes.
6. When serving sprinkle with herbs.