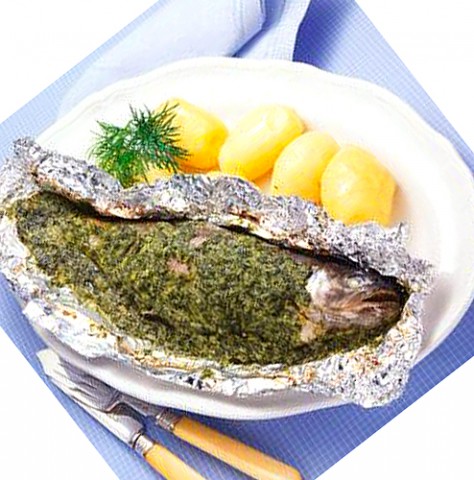 Any fish is suitable for this light dish with lots of fragrant greenery. If you follow the weight, then take less fatty fish, such as pollock, fever, hek, and if extra calories are not terrible for you, you can select the fish fatter, eg, halibut, oil. Very tasty in a creamy dill sauce salmon or pink salmon.
Especially vitamins and this dish will, if it is cooked with the first spring greens.
Fish with greens in spring in multivarka
To cook the fish with greens in spring in multivarka, we will need:
A fish - 0,5 kg, mayonnaise - 100 g, cream - 100 g, dill, parsley - 1 bundle, bow - 2 PC., vegetable oil, salt, pepper, garlic.
How to cook fish with greens in spring in multivarka?
1. clean fish, Rinse, Desire to work in the file, dry and cut into chunks (you can not cut).
2. onions clean, cut into half rings and fry in a little vegetable oil in a mode "Baking / Roasting".
3. Make a sauce of sour cream, mayonnaise, and finely chopped greens, garlic, mix, Add salt and pepper to taste.
4. On pieces of foil expanded fried onions, servings of fish, which should be lubricated with dill sauce on top. Wrap foil tightly letter envelopes. two foil layer is better to use, to the sauce flowed in the preparation.
5. Envelopes with the fish carefully place in a greased bowl Multivarki, follow, that the foil does not leave scratches. It can be laid on the bottom of the silicone mat, if available.
6. Cooking mode "Bakery products" 50 minutes. Serve with any side dish and fresh vegetables.
Cooking Tips:
Herbs for this dish, you can take that, that is more to your taste, eg, Tarhuna, basil, thyme etc.. But the main thing here - do not overdo it, spicy green enough to put a few leaves.
The fish can be cooked without wrapping in foil, but simply placing it in a bowl Multivarki, adding all the necessary ingredients for the recipe.