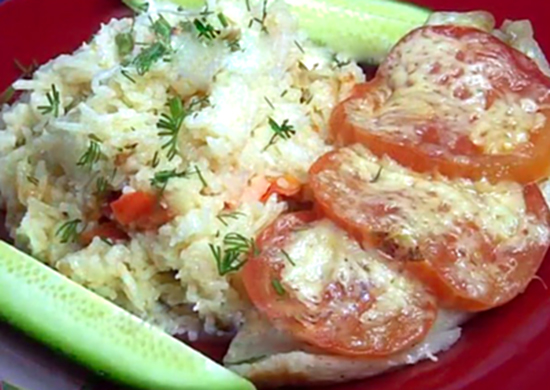 Fish - healthy dish for children and adults. A steamed, doubly useful. Not everyone is like steam dishes, but the fish for this recipe, with cheese and vegetables, cooked in a couple multivarka, It exceeds all expectations. It turns out juicy, with delicate cheese taste, moreover immediately and garnish, which is prepared at the same time. Quite possibly, it takes a dish on your menu is one of the main places.
Steam fish with cheese and rice with vegetables in multivarka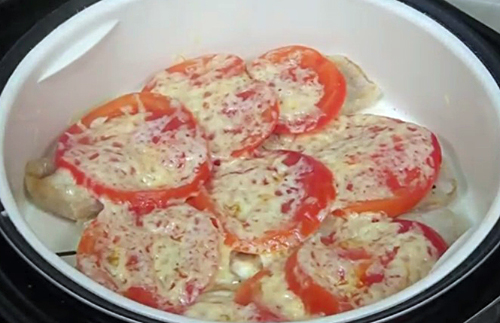 To steam cook the fish with cheese and served with rice and vegetables in multivarka, we will need:
filet any fish - 0,5 kg, a tomato - 1 PC., cheese - 100 g
for garnish: Figure - 1,5 multst., water - 3 multst., bow - 1 PC., carrot - 1 PC., sweet pepper - 1 PC., cauliflower - 1 small head, a tomato - 1 PC, salt, pepper, greens - to taste, vegetable oil.
How to cook fish with cheese and rice with vegetables in multivarka?
1. Onions and carrots to clean, in pepper seeds removed, cauliflower into florets to disassemble. All vegetables and greens washed and cut into medium-sized. Figure rinse well.
2. Multivarku set "Baking / Roasting" mode, heat the oil and 15-20 crumple fry the onions and carrots, then add the tomato, bell pepper, continuing to fry. the program disables, add the cauliflower, rice, water, solim, pepper and add the chopped herbs.
3. Rinse fish fillets and dry, grate cheese.
4. Fillet of fish put in the container for steaming, sprinkle with salt and spices, laid on top of the chopped tomato and sprinkle with cheese.
5. To install the program "Deception steam" or "Lynx" on 40-45 minutes (depending on the power Multivarki).
6. When serving the dish can be decorated with greenery, fresh vegetables.
How to cook fish with cheese and rice with vegetables in multivarka recipe videos: