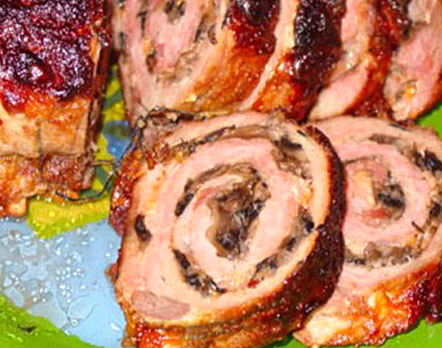 Rolls of pork with various fillings - a great alternative
ordinary dishes. They are very appetizing and festive look, perfect taste, and prepared just as easy, than simple burgers.
Roulade of pork with mushrooms in multivarka
To prepare rolls of pork with mushrooms in multivarka, we will need:
The flesh of pork - 0,5 kg, Champignon - 100 g, bow - 1 PC., butter - 40 g, salt, spice, vegetable oil, greenery.
How to prepare rolls of pork with mushrooms in multivarka?
1. rinse pork, dry, cut into portions and well repulse, sprinkle with salt and spices.
2. prepare stuffing: clean, Rinse and chop the mushrooms, bow, salt, pepper and mix with soft butter, you can add chopped fresh herbs finely.
3. Place the filling in the rescued portions of meat and gently roll into rolls, You can tie their threads.
4. Multivarku set "Quenching" mode, the bottom pour cup vegetable oil. Bake rolls around 40-60 minutes, in the middle of the program can be flipped to the other side.
5. In another method, Rolls can fry on both sides in mode "Baking / Roasting", then put out 40-60 minutes "Quenching" mode, Gulf tomato or cream sauce.
6. Serve with any side dish as desired.
Cooking Tips:
Filling in Rolls can be very diverse, eg, nuts, dried fruits, boiled eggs with fried onions, braised cabbage, cheese and more, that will prompt fantasy.
How to prepare rolls of pork with mushrooms in multivarka recipe videos: