Purchase of goods or work on the Internet suggests the presence of accounts in the various payment systems. They are necessary for the implementation of electronic payments. One of these systems is the payment system PayPal.
The payment system PayPal
This is a global payment system, which has recently gained its spread and Russian payment system. PayPal enables payments, both physical, and with legal entities. In that case, if you already have an account in the payment system, but, you need it, then this article is for you. Sign up with PayPal is easy. To open a PayPal account, you will need: payment card with the presence of its cash account and an active e-mail.
The registration procedure at PayPal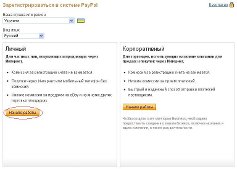 Go to the PayPal website, select the language and click the button "Register" from the options of countries to choose their country of residence, Next you need to select the language. If the registration is carried out by a private person, you should choose an account «PayPal for you", with registration for the legal entity, select «PayPal for business"
Choose the option "Open an account" and enter your personal data. All items need to be filled in the manner and on the Latin alphabet. There, where the requested place of residence, specify the «Ru». The phone number is entered in the international format (+7 495 7777777)
Next, enter the details of your payment card. Immediately this is not necessary, special, if her account is no money. Be sure to enter the card number, and the date of its validity, CSC verification code or three digits on the back of the card. To agree to open an account, clicking on "I agree to open an account"
Next, confirm the registration by e-mail. To do this, open your email box and check the presence of a letter. The letter will offer to enable the account in the payment system, clicking the link. By doing so, brings you to the home page PayPal, where you will be prompted to enter your password, chosen during the registration process.
If you have not found a letter for confirmation of registration to PayPal in your email, and passed over 10 minutes - check the folder "Spam". If there are letters in the registration confirmation will not appear, the PayPal website you need to make a second request, selecting the button "Request new confirmation number"
The final step - verification card. In this way, you confirm, that you are a cardholder. we warn: the card will be removed about two dollars, then the money will return to the map. The statement of operations in the description of the details of the payment, locate the four-digit code is your personal code, it must be entered in the PayPal system.
You have completed registering with PayPal. Your personal account in the payment system is open. Now it can be used!