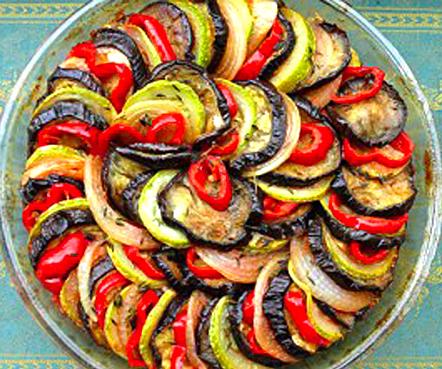 If you want to cook interesting and delicious vegetable dish, try ratatouille.
This dish comes to us from the French cuisine, Provence peasants loved to cook in the summer months of fresh vegetables their gardens. by the way, eggplant in this dish - a later addition. Depending on the size of vegetables, their number can vary. Try to take the vegetables the same size.
Ratatouille in multivarka
To prepare the ratatouille in multivarka, we will need:
1 zucchini, 1 eggplant, 1 bulb, 2 bell peppers, 4-5 large tomatoes, 1 st.l. tomato paste, garlic, spices and spicy Provencal herbs - to taste, sugar and salt - to 1 ch.l., vegetable oil.
How to cook the ratatouille in multivarka?
1. onions clean, wash all vegetables.
2. At the eggplant and zucchini, cut the stalks and cut them into slices about the thickness 3 mm. With eggplant can Skinned, if he does not milk ripeness. Eggplant, sprinkle with salt and set aside for a while to remove the bitterness. Through 10 minutes, rinse under the tap circles eggplant and pat dry.
3. 2 tomatoes cut slices on 3 mm, the Bulgarian pepper, remove the seed box and cut into small cubes, also cut and remaining tomatoes (you can first remove them from the peel, down on 2 minutes in boiling water).
4. Multivarku set "Hot" mode, Pour the butter and fry the onion, through 2-3 minutes add pepper, tomatoes and fry for another 15 minutes. Add tomato paste, salt, sugar and spices and stir well. Yet a little warm up and lay off half the sauce into a bowl.
5. We begin forming ratatouille. Forming piles, alternating circle eggplant, tomatoes and zucchini, and put them in a circle on the sauce in multivarku, fill in the middle of a similar. Sprinkle vegetables with vegetable oil, slightly prisalivaem (0,5 ch.l.), sprinkle with chopped or mashed garlic and pour the remaining sauce on top.
6. Turn "Quenching" mode 1 time, the finished dish carefully remove from the slow cooker, trying not to damage the layers of vegetables, when submitting sprinkle with herbs.
7. Serve as a main dish or a side dish.
Video recipe ratatouille in multivarka: