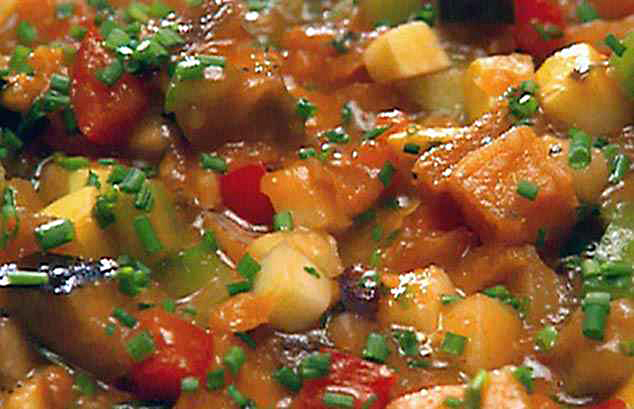 Vegetable Stew - a dish of a series of quick and easy, which can be prepared by Multivarki. Vegetables is not boiled soft like porridge, retain their color and shape. A set of vegetables in the stew assume completely different, optionally. Basic vegetables - potatoes, carrot, bow, added thereto cabbage, zucchini, eggplant, tomatoes, green pea, struchkovuyu fasol, cauliflower, sweet pepper, depending on the season. When extinguishing can use tomato paste or cream, various spices. Everything, it takes, - is to prepare and chop vegetables, lay them in a bowl and incorporate the program, the rest will do the multivarka.
Vegetable stew in multivarka
To cook vegetable ragout in multivarka, we will need:
potatoes - 2 PC., bow - 1 PC., carrot - 1 PC., Sweet pepper - 1 PC., eggplant - 1 PC., Squash - 1 PC., a tomato - 2 PC., vegetable oil, garlic, salt, pepper, greenery.
How to cook vegetable ragout in multivarka?
1. vegetables clean, wash and cut into medium slices. Herbs and garlic finely chopped.
2. Multivarku set in "Baking / Roasting" mode 10 minutes, pour into a bowl of vegetable oil, put onions and carrots and fry them with the lid closed, mix, disable program.
3. establish program "Putting out" on 1 time. In a bowl Multivarki lay all the vegetables, mix, add salt and spices, garlic, greenery, multistakan water or tomato juice, close the lid and cook until the program is completed.
4. Serve as a side dish or as a separate dish, when applying, you can add sour cream.
How to cook vegetable ragout in multivarka recipe videos: