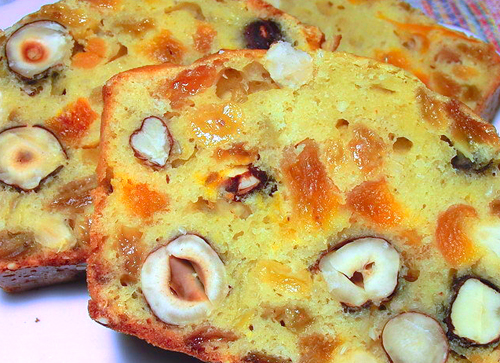 The ingredients for this cake with dried fruits and nuts are available for any zealous mistress, and preparing it is very easy. The basis for the cake - an interpretation of biscuit dough. In multivarka product gets high, magnificent and, the most important thing, absolutely dry, due to the presence of sour cream. Dried fruit can be replaced with any fresh fruit, if they are on hand. A slice of this cake is perfect for morning or evening tea or coffee, it will be appreciated and your guests. Nuts and dried fruits will support the work of the heart muscle.
Gingerbread cake with nuts and dried fruits in multivarka
To prepare a sumptuous cake with nuts and dried fruits in multivarka, we will need:
egg - 4 PC., flour - 2 c., sugar - 200 g, cream - 400 g, baking powder - 1 package, various dried fruits (prunes, astrologically, cherry, raisins, figs et al.) – 200 g, nuts – 100 g.
How to cook a cake with nuts and dried fruits in multivarka?
1. Eggs break into a bowl and beat with a mixer until fluffy, increase in volume of approximately 3-4 fold, adding sugar in small portions.
2. Then, while continuing to whisk, add the sour cream and the sifted flour with baking powder.
3. Laying pre scalded with boiling water, Dried, chopped dried fruit, orange zest, milled nuts and mix mass (If dried fruits are sold already prepared for eating, then do not scald them with boiling water).
4. Bowl Multivarki grease with butter and pour the dough.
5. bake 50-60 minutes in "Baking" mode, then turn over the cake and continue to bake for another 20 minutes, setting the same mode.
How to cook a cake with nuts and dried fruits in multivarka, video recipe: