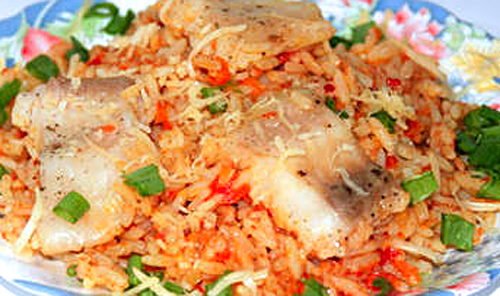 Pilaf with a fish - an unusual and original dish. If you cook it without burning spices, it is quite suitable for dietary, and baby food. A small calorie help maintain harmony, this pilaf is welcome at dieters. The abundance of vitamin vegetables, nutritious rice and fish is useful create a very pleasant flavor range of dishes. In multivarka cooking this pilaf will appreciate its simplicity.
Pilaf with a fish in multivarka
To cook risotto with fish multivarka, we will need:
1 Article. rice, 1-2 PC. carrots, 1 bulb, filet any fish - 500 g, salt, spices for pilaf, 1-2 tomatoes, 1 PC. bell pepper, garlic, vegetable oil.
How to cook risotto with fish multivarka?
1. Wash and clean the vegetables, Figure rinse several times.
2. Vegetables cut into cubes, fish - cubes.
7. In a bowl pour the oil Multivarki, install the program "Baking / Roasting" and fry the onion and carrot until golden state, add garlic, bell peppers and tomatoes, a little put out, salt, put your favorite spices and mix. disable program.
4. In the bowl of rice to fall asleep, top of decomposed fish pieces, sprinkle with lemon juice, fill 2 glasses of hot water, to install the program "Putting out" on 40-50 minutes or program "pilaf". In the middle of the program to try to salt, dosolit if necessary.
5. Serve with greens and vegetables.
Cooking Tips:
This pilaf can also add green beans, sliced ​​middle-sized cubes of zucchini and eggplant, potatoes and other vegetables to taste.
Part of the hot water, which is added to the pilaf, can be replaced with tomato juice or wine.