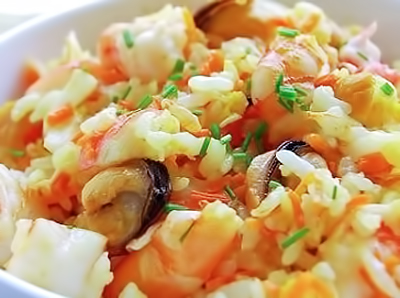 Pilaf with seafood - a great alternative to meat pilaf. The dish is very useful, the original, rich in iodine and phosphorus, it will delight seafood lovers, and possibly, and those, who prefer pilaf with meat. Who knows, this dish can help them look at the seafood with a side. And the most important thing, that multivarka cook a risotto will not cause too much difficulty.
Pilaf with seafood in multivarka
To prepare the risotto with seafood in multivarka, we will need:
400 g "sea cocktail" (shrimp, mussels, octopus, squid), 1 carrot, 1 bulb, 2 Article. steamed rice, greenery, soy sauce, spice, salt to taste, vegetable oil, hot water - 4 Article.
How to cook risotto with seafood in multivarka?
1. Seafood lay out the package and leave thawed, can be thawed slightly, not fully.
2. Carrots and onions to clean, washed and cut into strips. Figure rinse well.
3. multivarku set in "Baking" mode 20 minutes, Pour the oil in a bowl and gently fry the onion and carrot, adding to them Seafood, from time to time to stir. In bowl, at the end of time, add rice, hot water, spices and salt (consider, that in soy sauce, which in the end is threaded ready pilaf, Salt is also present).
4. Mode "Baking» disable and set the mode "Pilaf", If such a regime is not, you can use "Quenching" mode, time about 30 minutes.
5. Ready pilaf mix, fill soy sauce, when submitting sprinkle with herbs.