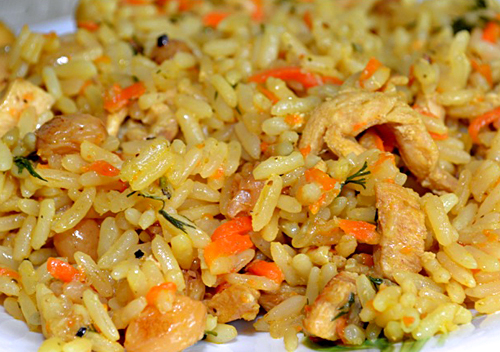 If you want to taste something delicious, but, However, dietary, try to cook risotto with chicken in multivarka. Poultry can be taken without the fat, eg, chicken breasts, and the amount of oil required is much less, than when cooking pilaf on a plate. This pilaf can safely eat, even those, who lose weight - calories in it is not a lot, and even rice diet promotes weight loss.
Pilaf with chicken in multivarka
To cook risotto with chicken in multivarka, we will need:
Chicken fillet - 0,5 kg, carrot - 2 PC., bow - 1 PC., rice (better to take parboiled, He received a crumbly) – 2 multystakana, water - 4 multystakana, garlic - 1 head, vegetable oil - 20 ml, spices for pilaf, Zira, barberry, salt - to taste.
How to cook risotto with chicken in multivarka?
1. Washed well with rice, purify and cut vegetables: carrots - julienne, onion - half rings. Chicken washed and cut into medium-sized cubes.
2. The pour cup Multivarki vegetable oil and fried onion sequentially, carrot "Baking / Roasting" mode when the lid is open for 20 minutes, stirring from time to time.
3. Add the chicken and continue to fry for another 20 minutes in the same mode.
4. We fall asleep rice and flatten it, laying spices, cumin bit rubbing his hands at the same time for fragrance, salt to taste, Garlic completely delve into rice, removing the upper layers husk.
5. fill water, better through the skimmer and set mode "Pilaf / Porridge".
6. When a sound signal, Garlic must be removed, pilaf and stir.
7. Serve with a salad of fresh vegetables and herbs.
How to cook risotto with chicken in multivarka recipe videos: