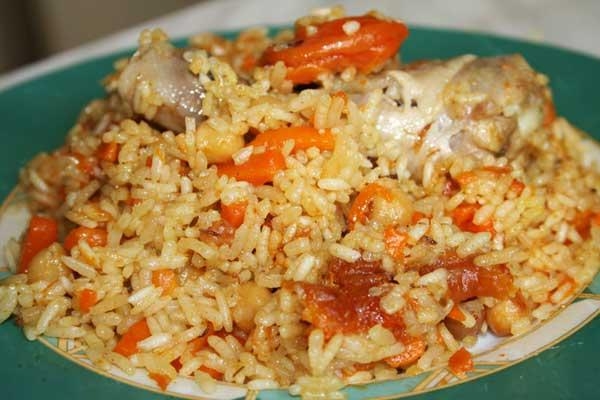 Interesting combination of Chicken, pumpkin and rice pilaf in this, We have much to their liking. Yes, and it will benefit from a considerable, because the pumpkin is known for its qualities, it is very much useful heart of potassium. Eating pumpkin dishes reduces swelling, interstitial improved circulation, activated liver and output work slags. In a pumpkin lot of carotene, vitamins and rare T K, and group B, E, RR.
Pilaf with chicken and pumpkin in multivarka
To cook risotto with chicken and pumpkin, we will need:
Chicken fillet - 0,3 kg, pumpkin - 0,3 kg, Figure - 1 c., water - 2 c., bow - 1 PC., vegetable oil - 4 Article. l. butter - 2 Article. l., sugar - 1 ch.l., salt, seasoning for pilaf, ground pepper - to taste.
How to cook risotto with chicken and pumpkin in multivarka?
1. Pumpkin peel, bow clean, wash the vegetables and cut into small cubes, chicken wash and cut into cubes.
2. Pour vegetable oil in Multivarki bowl and fry the onion 5-7 minutes in the "Baking" mode, then add the chicken and continue to fry for another 15 minutes, stirring frequently, with the cover open.
3. salt, add sugar and spices, then pumpkin and mix, fall asleep on top rice, Pour hot water and cooking in the "pilaf" or "quenching" mode approximately 45 minutes.
4. Ready pilaf mix, fill with butter, sprinkle herbs and serve.
Cooking Tips:
Chicken can replace the pork or lamb, optionally add carrots, garlic.