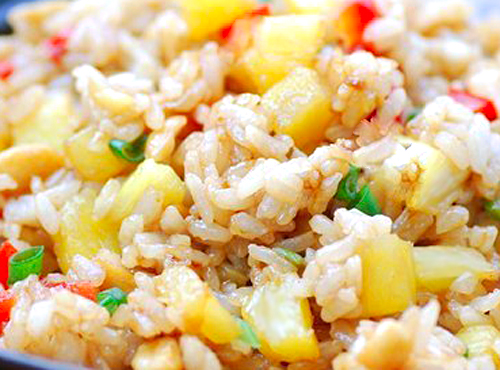 This pilaf will appreciate not only the, who fast or do not eat meat, but also an avid animal food, because it can be used not only as a main dish, but also as an excellent side dish to meat or fish. by the way, it is possible to add other vegetables of your choice, eg, zucchini, eggplant, bell pepper, tomatoes, that should fry before planting rice.
Pilaf with potatoes in multivarka
To prepare the risotto with potatoes, we will need:
rice - 0,5 c., potatoes - 0,5 kg, bow - 1 PC., carrot - 1 PC., vegetable oil - 2-3 st.l., butter - 3 st.l. water - 1 c., head of garlic, salt and spices (curry, chili powder and black pepper, Zira, barberry) - taste.
How to cook risotto with potatoes in multivarka?
1. Potatoes, onions and carrots to clean, washed and cut into small cubes.
2. Figure bust and rinse until water clarity.
3. In a bowl Multivarki pour oil and heat it, put onions and carrots, lightly fry in "Baking" mode, put the potatoes, sprinkle with salt and spices and continue to fry for another 5-10 minutes, stirring.
4. Absorb Figure, lay the garlic, Pour hot water, if necessary, and even salt the install "Pilaf" mode.
5. At the end of the program add the butter and mix.
6. When serving sprinkle with green onions, fed with fresh vegetables as a main dish or a side dish.
If the risotto is not to add butter, it can be used as a lean dish.
The pilaf can be put chickpeas or beans, they should be pre-soak and boil separately. If you use canned green peas, it can be added to rice tab, or at the very end of cooking, to not digest.