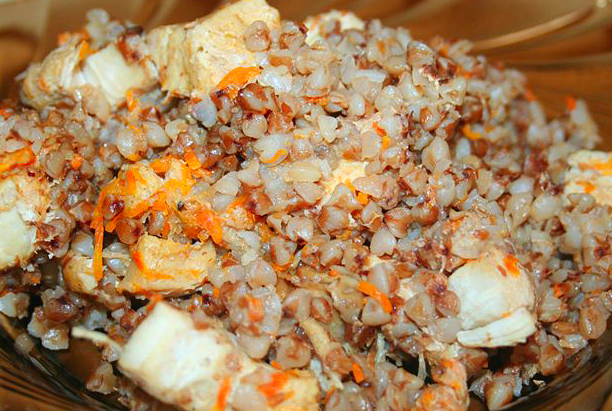 Try instead of rice pilaf Add buckwheat, You did not regret. This pilaf or buckwheat tradesmen prepared in ancient times. A by Multivarki dish becomes more intense in taste and flavor accent. Buckwheat get soaked juices and flavor of meat and vegetables, and the dish itself is preparing to quickly and easily.
Pilaf with buckwheat (buckwheat tradesmen) in multivarka
To cook pilaf made from buckwheat (buckwheat tradesmen) in multivarka, we will need:
600 g pork, 3 Article. buckwheat groats, 6 glasses of water, bow - 1-2 PC., carrot - 1-2 PC., Champignon - 1 Bank of canned or 200 g fresh, spices for pilaf, salt, vegetable oil.
How to cook the pilaf with buckwheat (buckwheat tradesmen) in multivarka?
1. Bow, carrot, Clean the mushrooms and wash, the meat, if necessary, defrost and clean. Cut the carrots into sticks, bow at random, sliced ​​mushrooms, the meat into small cubes.
2. Buckwheat to sort and wash.
3. In a bowl pour the oil Multivarki, fry onions, carrots and meat in "Baking" mode about 30-40 minutes, stirring occasionally, meat and vegetables have browned. Put in a bowl of canned or fresh mushrooms.
4. Add spices, salt, buckwheat fill and pour hot water.
5. Install the program "Buckwheat" or "pilaf" and prepare to signal, mix.
6. Serve with fresh vegetables.
Cooking Tips:
The dish can be added, if desired, fresh tomatoes or tomato paste at the end of roasting meat, often add the garlic risotto.
Instead, you can use chicken meat.
How to cook the pilaf with buckwheat (buckwheat tradesmen) in multivarka recipe videos: